New cohort of Humphrey Fellows to be welcomed Sept. 22
by
Joan Brasher
Sep. 21, 2016, 4:42 PM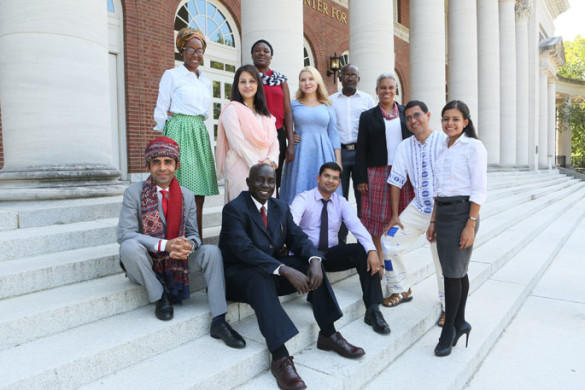 by Autumn Santos
Vanderbilt's newest cohort of Hubert H. Humphrey Fellows arrived and have settled into at Vanderbilt's Peabody College of education and human development, greeted by country music, humidity and bountiful possibilities for impact. Hailing from 10 countries around the world: Pakistan, South Sudan, Morocco, Jamaica, Lesotho, Malawi, Botswana, Venezuela, El Salvador and Russia, each fellow brings their unique contextual experience and a hunger to delve deeply into all that Peabody and Nashville have to offer.
Sponsored by the U.S. Department of State's Bureau of Educational and Cultural Affairs, the Hubert H. Humphrey Fellowship Program focuses on leadership development, professional development and mutual exchange for mid-career professionals who have demonstrated a commitment to leadership and service in their home countries. This year's cohort offers a myriad of experiences and their backgrounds vary, including classroom teachers, professors, policy makers and department heads of educational initiatives.
In the short time the fellows have been in Nashville, they have met with Vanderbilt professors and local businesses, attended a leadership retreat, learned about non-profit organizations, such as Peace Dragon, and have made multiple school visits.
Abdelaziz Lahmar, a fellow from Morocco, has begun the introspective journey that the experience inspires: "Before I came to Nashville, I did some research and I was excited about the music scene. I had also read that the city was one of foreigners and diversity. Being here, I have learned that the academics at Vanderbilt are phenomenal, especially in the field of education. From this program, I would like to take back some skills and competencies related with leadership so I can address some thorny issues that the education system in Morocco suffers from."
Along with receiving professional development and gleaning knowledge about the education system in the United States, the fellows will spend the next 10 months giving back to the Nashville community through acts of service and mutual exchange.
The fellows have participated in Metro Nashville Public Schools' Parent University at Trevecca Nazarene University and are looking forward to participating in Hands On Nashville Day 2016 on Sept. 24. At the end of their time in Nashville, they will return to their home countries to implement action plans to improve their schools, communities and government.
The official welcome ceremony for the Humphrey Fellows will be held on Sept. 22 at 5:30 p.m. in the Wyatt Center Rotunda.
CONTACT: Nancy Dickson, (615) 390-0812
Nancy.j.dinunzio@vanderbilt.edu