Media Inquiries
Latest Stories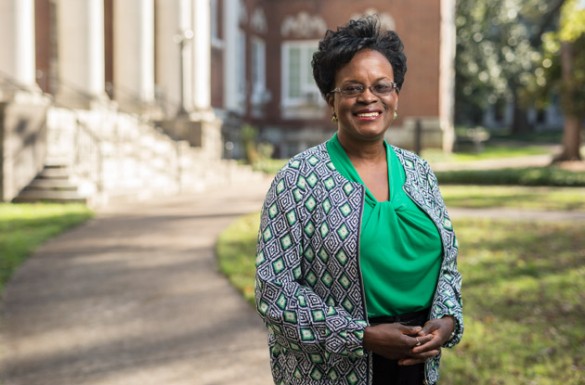 Sandra Barnes, a Vanderbilt sociologist whose work examines resilience and community in urban settings, has been named assistant vice chancellor for equity, diversity and inclusion, Chancellor Nicholas S. Zeppos announced today.
"Sandra's focus on and experience in empowerment in a variety of communities and her leadership at Vanderbilt made her an ideal candidate to help lead our efforts in diversity, equity and inclusion," Zeppos said. "I'm honored she has agreed to join the team and look forward to working with her and Vice Chancellor Hill to ensure we are taking thoughtful, effective action to ensure every member of our community is able to thrive."
Barnes will report directly to Vice Chancellor for Equity, Diversity and Inclusion and Chief Diversity Officer George C. Hill and will work with the chancellor, vice chancellors and other stakeholders to advance equity, diversity and inclusion at Vanderbilt.  She will continue to teach and conduct research as a faculty member in the Peabody College Department of Human and Organizational Development and the Divinity School.
"Through her extensive research and work with churches and communities, Sandra has a clear understanding of the ability of an organization such as Vanderbilt to foster and promote change in attitudes, policies and support systems for a wide variety of underrepresented communities," Hill said. "She will be a wonderful asset to our work in the EDI office and in helping to implement Chancellor Zeppos' efforts to improve and support diversity, equity and inclusion.
"Dr. Barnes will also play a key role in helping to articulate the vision and goals of the Office for Equity, Diversity and Inclusion as well as advancing goals articulated in the forthcoming report from the Chancellor's Committee on Diversity, Inclusion and Community. We look forward to her talented and thoughtful efforts," Hill said.
Barnes' responsibilities will include assisting in the development and implementation of goals and objectives for the Office for Equity, Diversity and Inclusion that align with institutional policy and goals. She will work closely with the chancellor and the vice chancellors on strategic initiatives that advance equity and inclusion in the community. She will also be available for listening and information sessions with faculty, staff and students to gather input for the direction of the EDI office.
Barnes, who has a background in statistics, will also analyze data and other evidence related to the university's progress in equity, diversity and inclusion and is charged with ensuring EDI program development, process improvement and the coordination and integration of processes with other university partners.
Barnes appointment is effective July 1.
"I am honored to be named to this new role and look forward to working with Chancellor Zeppos, Vice Chancellor Hill, and other university leaders together with students, faculty and staff to support an organizational culture both within and across departments that provides a safe, enriching and inclusive environment for all members of our community," Barnes said.
Barnes' research focuses on the role of religion and congregations as change agents in society. She is also interested in race, class and gender dynamics, the relationship between structural constraints and individual agency, and how these dynamics influence the experiences of residents in poor urban spaces. She is the author of seven books and dozens of articles, book chapters and book reviews and has served as lead editor on three edited volumes. In HOD, Barnes was also the faculty chairperson of the Minority Student Committee from 2009-2015 and serves as a member of the Diversity of Views in Education (DOVE) Committee.
She recently completed a one-hour documentary, "Gary, Indiana: A Tale of Two Cities," examining what churches are doing to empower citizens in an urban space.
Barnes is also principal investigator of a $1.5 million five-year study supported by the Department of Health and Human Services' Substance Abuse and Mental Health Services studying the troubling trend of disproportionately high HIV diagnoses among young African American males who engage in sexual activity with other men. The study is a unique partnership with First Response Center, a nonprofit HIV/AIDS prevention and care organization run by Metropolitan Interdenominational Church in North Nashville.
Barnes came to Vanderbilt in 2008 after serving as an associate professor of sociology at Case Western Reserve University. She previously served as assistant as well as associate professor in the Department of Sociology and Anthropology and the African American Studies Research Center at Purdue University.
She earned her bachelor of arts degree in mathematics and economics from Fisk University in 1986, and went on to earn a master of science degree in operations research from the Georgia Institute of Technology in 1989. After working as a systems engineer for several years, she found that her true calling, professionally and personally, was to engage in research on the adaptive experiences of historically disenfranchised groups. She returned to school an earned a master of sociology of religion and Christian education in 1995 from the Interdenominational Theological Center in Atlanta, Georgia, and her Ph.D. in sociology from Georgia State University in 1999.