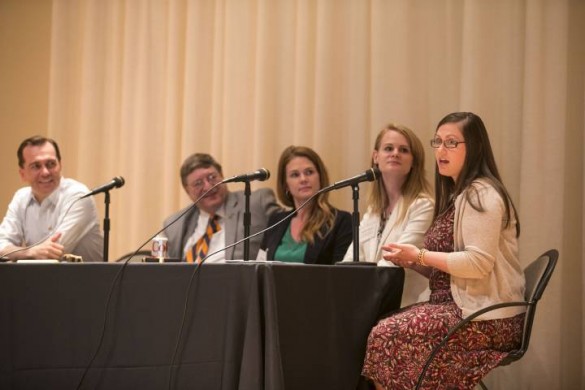 Tennessee lawmakers encouraged aspiring teachers to use their unique perspective to impact education policy decisions during a panel discussion May 5.
Vanderbilt's Peabody College of education and human development hosted the campus forum to initiate conversation around best practices for educators when working with policymakers.
Rep. Harry Brooks, R-Knoxville, and Rep. John Ray Clemmons, D-Nashville, served on the panel, along with three Peabody alumnae: Wright Middle School eighth-grade teacher Kristian Dennison, Shafer Middle School seventh-grade teacher Natalie Coleman and KIPP Kirkpatrick Elementary Dean of Student Support Katie Elam.
"Your input is vital," Clemmons said. "If things we are doing are not working, we need to know that. We have to hear from teachers and administrators. If we don't, we are flying blind."
Clemmons encouraged attendees, which included Peabody teacher candidates and faculty, to identify lawmakers representing their school district and build strong lines of communication. He referenced standardized testing and budgeting among the topics facing lawmakers that educators can help shape.
"Email, call, go visit your legislator," he said. "[rquote]Invite your legislator to visit your classroom. Keep an eye on what is going on. Simply communicate. You have a unique perspective, so please use it."[/rquote]
Brooks shared with attendees that he started out as a middle school teacher in Knoxville years ago, and married an educator.
"I applaud you for looking at education, which is, in my opinion, the hardest, roughest, toughest public service career out there," he said. "Find out who your state rep and state senators are and make contact. Yes it's extra time, but it's critical if you want a voice. Find out who is running for office and get involved in those elections, too. Your influence will last a lifetime."
Natalie Coleman, a seventh-grade teacher at Shafer Middle School in Sumner County, was shocked the first time she was contacted by Sen. Ferrell Haile, R-Gallatin, who wanted to visit her classroom.
"Senator Haile wanted to talk to my students and to our teachers," Coleman said. "He was hungry for that experience and he wants to come back every year. [lquote]I have found that Tennessee lawmakers want to talk to teachers and they value you."[/lquote]
She added that she has participated in fellowships, committees and conferences to expand her knowledge and influence on education policy.
"Sign up for a focus group, call your legislator, connect with Education Commissioner McQueen," Coleman said. "It does make a difference and it isn't as intimidating as it seems."
Denison also has participated on committees and stays abreast of local education advocacy groups' activities.
"Connections and networking are so important," Denison said. "It's also very important to be a positive voice in your school when policy decisions come down that are confusing or make life more difficult. For example, I don't love that we are not testing this spring, but I've been using my positivity to keep other teachers feeling good about the fact that we are moving toward the right test. Being a positive voice can make a huge difference in your school."
Clemmons added, "No one knows what is best for schools and the public education system more than teachers. You have a duty to communicate, participate and have your voice heard."