MyVU has profiled a dozen members of the Class of 2016 who embody Vanderbilt's missions of inclusion and community. Representing a diversity of backgrounds and experiences, they've pursued diverse interests at the university. We're featuring their stories in the lead up to Commencement on May 13.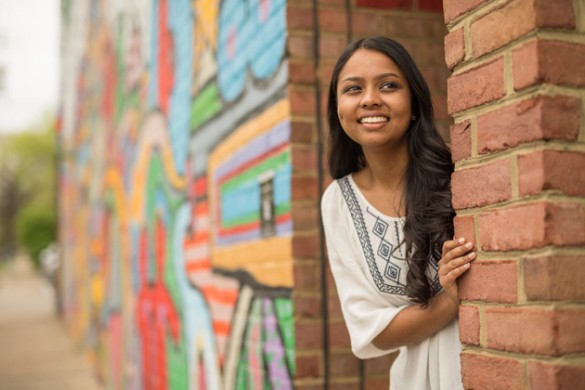 When Deya Maldas signed up to be a tutor at the Boys & Girls Clubs of Middle Tennessee, she didn't know she was about to have the most transformative experience of her freshman year.
"With so many volunteer projects I'd done, you help for a day and then you leave," the Ingram Scholar said. "But day in and out, I got to know these kids and really invest in their lives. After that I knew that whatever I ended up doing with my life, I wanted to make a difference."
Maldas found Peabody College's human and organizational development program to be just the right fit.
"My track was leadership and organizational effectiveness, so it had psychology, science and research woven into it," said Maldas, from Brentwood, Tennessee. "[rquote]HOD gave me the skills to be successful in the workplace but also gave me the opportunity to pursue my passion for service."[/rquote]
Maldas was "thrown in the deep end" of service work in 2014 when she earned a Nichols Humanitarian Fund fellowship to conduct field research for the U.N. Anti-Human Trafficking Program in Kolkata, India. She had been to India many times to visit extended family, so she didn't anticipate how emotionally and physically taxing the experience would be.
"Seeing the effects of sex trafficking was heartbreaking," she said. "I arrived during the rainy season, and we were walking to these remote villages, slogging through mud. I kept falling and at one point was exhausted and completely covered in mud from head to toe. A woman from the village picked me up and carried me. When you are met with such kindness in such harsh circumstances, it is something you never forget."
Inspired to improve the lives of young women in struggling nations, Maldas became president of the Vanderbilt chapter of She's the First, a national organization that provides scholarships to girls in low-income countries.
A talented singer who is as comfortable performing North Indian classical music as American jazz, Maldas also conducted an independent study delving into ethnomusicology, specifically the changing nature of Bengali popular music. "The flexibility and creativity of HOD allowed me to draw on all of my interests for this unique project, which was a highlight of my time at Vanderbilt," she said.
Maldas' completed course of study included a minor in music at the Blair School of Music and a minor in economics in the College of Arts and Science. After graduation she will return to Kolkata to study Bengali for two months thanks to a U.S. Department of State Critical Language Scholarship. Then she will go to work at Change Healthcare in Nashville, an organization that provides network solutions and technology-enabled services to help health care companies serve their patients more efficiently.
"At Vanderbilt I was able to pursue my 'résumé goals' as well as my personal interests and talents," she said. "My hope is to combine all of them in the future to make the world a better place."