Class of 2016: Sam Hoskins finds identity and purpose in mentoring first-year students
by
Kara Furlong
May. 5, 2016, 10:07 AM
MyVU has profiled a dozen members of the Class of 2016 who embody Vanderbilt's missions of inclusion and community. Representing a diversity of backgrounds and experiences, they've pursued diverse interests at the university. We're featuring their stories in the lead up to Commencement on May 13.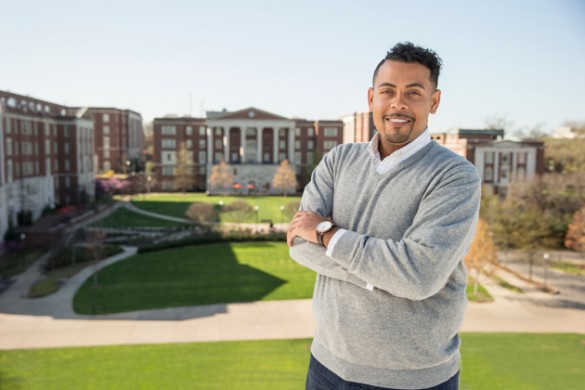 Sam Hoskins has spent the last four years living on The Martha Rivers Ingram Commons. From his introduction to the residential community as a first-year student in Gillette House to his last three years as a resident adviser in North House, Hoskins says The Ingram Commons has played a significant role in his journey of self-discovery.
The charismatic senior from Little Rock, Arkansas, came to Vanderbilt with expectations of studying neuroscience, but he soon realized it wasn't the best fit. Hoskins switched his major to human and organizational development the fall of his sophomore year. Navigating this transition and forging a new academic identity inspired him to become an RA.
"I wanted to be in a position where I could support other students—to help them avoid some of the struggles I went through and to make sure they had an even better experience than I did," he said.
Hoskins was drawn to HOD because of its focus on people. "In human and organizational development, you're helping people work together," he said. "Being a very social and relationship-driven person, that resonated with me."
As he got further into the major, Hoskins found himself using the things he learned in classes such as Understanding Organizations and Leadership Theory and Practice in his role as North House's head resident, in which he's served for the past two years. "It's been fascinating and really engaging for me to take my HOD learnings and apply them in a practical setting, like managing a team of RAs on the Commons," he said.
Hoskins favorite part of being head resident is working closely with Faculty Head of House Gregory Melchor-Barz to develop unique programming for the first-year residents. North House regularly hosts ubuntu dinners—ubuntu means "human kindness" in Zulu—that allow students and faculty guests to share a meal and discuss topical issues in an informal setting. A "life hack" series teaches the students practical skills—such as cooking, personal finance and managing relationships—that they wouldn't necessarily gain in a classroom. And Hoskins uses his position as a member of the Multicultural Leadership Council's executive board to connect residents with student leaders and organizations that are addressing a number of vital issues on campus.
"Even though there's a bit of an age gap between me and my residents, I'm still learning side by side with them," he said. "We're sharing these materials and grappling with complex concepts like diversity. We're all on a path to finding our identities and becoming more self-aware and comfortable in who we are. And that vulnerability is a really great thing about living on the Commons.
"Vanderbilt calls these living and learning communities, and I would say they are exactly that," he said. Hoskins values his role as mentor and says he cherishes the mentorship he's received from friends, faculty, staff and fellow students over the years.
After graduation, Hoskins will take his well-honed people skills to a new role as a human capital consultant for Ernst & Young in Atlanta.
"Whenever I talk to alumni from the HOD program, they say, 'You'll see how well-prepared and a step above you are from others in this field,'" he said. "I'm really excited to see what the major is going to do for me once I graduate."