Media Inquiries
Latest Stories
For international student Rani Banjarian, differences are what make him feel a part of Vanderbilt.
"I've definitely been very much given the space and opportunity to be myself here," says Banjarian.
The creative writing and physics double major calls Beirut, Lebanon, home. But his parents encouraged him to think globally. "As soon as I could speak, I was learning English and Arabic simultaneously," he says.
Banjarian credits the Ingram Commons with his smooth transition to the U.S. "I think that's largely thanks to the way the Commons experience is set up. It's where I felt comfortable to be unashamedly myself."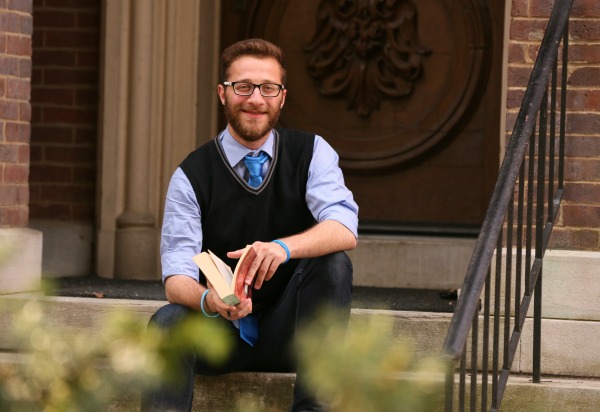 Easing into an American way of life has been made easier at Vanderbilt, he says. "I never felt like I was expected to be an ambassador of my culture or my upbringing or the Middle East. Or the fact that I grew up in a multi-religious household. Or the fact that there's a lot of political turmoil in the region."
A passion for singing also has helped him build cultural bridges. "A part of me knew that getting into the Melodores would really define my Vanderbilt experience, and it has!" he says.
He's even performed for the president of the United States. "The president made a dad joke and everyone laughed, and Michelle Obama said, 'There's so much talent in the room, so much talent in this country,'" says Banjarian. "And I had half a mind to say, 'Hey, I'm from another country!'"
Banjarian says he feels grounded in the group. "The coolest thing about the Melodores is that we're all very different. We come from different backgrounds and different experiences in music."
His most recent accomplishment put him back in the national spotlight—with a Dell Magazine Science Fiction writing award. "I want to tell the story of my family and the story of growing up in Beirut," says Banjarian. The creative writing double major used his childhood experience—living through the 2006 bombing of Beirut—to shape his short story called "Lullabies in Arabic."
Banjarian credits his parents and Vanderbilt with changing the direction of his life. "Vanderbilt has been incredibly generous with me and my family," he says.
He is the recipient the Harold Stirling Vanderbilt Honor Scholarship. "My parents have given flesh, blood and tears for us, and I think at the end of the day I'm very happy that I'm not putting any strain on them in order to have an experience like this," he says.
Banjarian is making his family and Vanderbilt proud. "I consider it to be an immense and absolute privilege to be able to be a student at this university," he says. "It's just been one long exercise in self-empowerment."
Video produced, shot and edited by Zack Eagles and Amy Wolf.