Media Inquiries
Latest Stories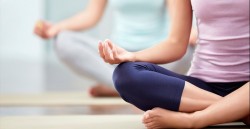 The Vanderbilt Recreation and Wellness Center (VRWC) has several new group fitness classes to try this fall.
Core & More, a 30-minute class focused on the core, and our Cardio Body Flow, a low-impact cardio class with dance roots, both help you start the week off strong on Tuesdays. If you're looking for something a little more intense, check out BOSU 3D Xtreme™. As one of our newest classes, it is a completely unique 50-minute, high-intensity, team-oriented workout, combining functional, integrated, total body training with explosive calorie-blasting cardio, intense core, and interactive team challenges.
On Wednesdays try Ballet Cardio and Barre, two classes that integrate ballet basics with other forms of exercise to give you a full body workout.
Finally, begin to wind down your week with one of two new yoga classes. On Thursdays enjoy Yin Yoga, which targets the body's deepest tissues through deep breathing and simple stretches. And on late Friday afternoons, practice moving through poses fluidly during our new Vinyasa Yoga class.
If you have any questions about the new classes or need additional information, contact Lori Cowan, fitness associate and group fitness coordinator at the Student Recreation Center.
Contact: Kara Philpot, (615) 322-0811