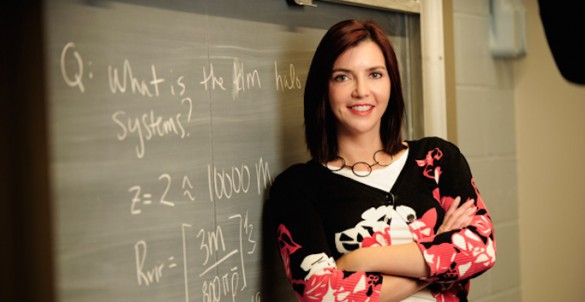 Kelly Holley-Bockelmann, associate professor of physics and astronomy, has been named director of the Fisk-Vanderbilt Master's-to-Ph.D. Bridge Program, College of Arts and Science Dean Lauren Benton announced.
The Fisk-Vanderbilt Master's-to-Ph.D. Bridge Program aims to improve demographic representation in the science, technology, engineering and mathematics (STEM) fields. The program is a partnership between Fisk University, an acclaimed historically black university, and Vanderbilt University to increase the number of underrepresented minority students engaged in Ph.D.-level STEM research.
"[rquote]The Fisk-Vanderbilt bridge program is a rare jewel in higher education nationally, and Professor Holley-Bockelmann is exactly the right person to lead it to its next, expanded phase,"[/rquote] Benton said. "She is a first-rate scholar and a gifted graduate mentor, and she has worked side by side with Professor Keivan Stassun to create a program that is a point of pride for all of us in the College of Arts and Science."
The Fisk-Vanderbilt bridge program took its first student in September 2004. With extramural funding in place from NASA and NSF CAREER, IGERT and LSAMP programs, as well as generous support from both founding institutions, the program has grown in size and scope. As of August 2015, it has enrolled approximately 100 students.
As of spring 2015, the program has produced 18 Ph.D. graduates in physics, astronomy and materials science, making it the nation's top awarder of Ph.D.s to underrepresented minority students in these fields. Together with its counterpart program in biomedical sciences, directed by Associate Professor of Molecular Physiology and Biophysics Linda Sealy at Vanderbilt University Medical Center, the Fisk-Vanderbilt bridge program has helped raise Vanderbilt to the No. 2 rank among all AAU schools for the proportion of Ph.D.s awarded each year to African Americans in all STEM fields.
Every Fisk-Vanderbilt student has acquired STEM-related employment prior to graduation. Among these early cohorts are the first African American female to graduate from the astronomy program at Yale University and the first African American female astronomer to publish a first-author article in Nature. The Fisk-Vanderbilt bridge program serves as a national model for other schools, including the Massachusetts Institute of Technology, Columbia University and the University of Michigan.
Holley-Bockelmann succeeds Stassun, professor of astronomy and senior associate dean for graduate education and research for the College of Arts and Science, as director.
"[lquote]The aspiration of the Fisk-Vanderbilt partnership embodied by the bridge program has always been first and foremost to elevate Vanderbilt's leadership and national impact in diversity excellence at the Ph.D. level in STEM.[/lquote] Today there are few universities that can boast the level of sustained impact that Vanderbilt has had on making the face of entire academic disciplines look more like the face of America," Stassun said.
"But another aspiration has been to attract the types of faculty leaders who have the courage, vision, cultural competence and passion to lead and innovate around diversity and excellence," he said. "Kelly is such a leader, uncompromising in the excellence of her scholarship and at the same time unwavering in her dedication to our incredible students, to equity and to flying the Vanderbilt flag of leadership in diversity ever higher."
A first-generation college student, Holley-Bockelmann earned her bachelor of science degree from Montana State University and her M.S. and Ph.D. degrees from the University of Michigan. She came to Vanderbilt in 2007 and has long served as a faculty mentor to Fisk-Vanderbilt bridge program students, many of whom are first-generation like herself.
"[rquote]Scientific problems today are hard, and we need a diverse set of minds working on them,"[/rquote] Holley-Bockelmann said in the summer 2015 issue of Vanderbilt Magazine. "A great way to get those different perspectives is to include people who come to science on a different path."
In her research, Holley-Bockelmann uses supercomputers to explore the dynamics of supermassive black holes, exotic astronomical objects with the mass of millions of stars, which dominate the cores of nearly every galaxy. In February 2015, she was named to the inaugural cohort of the Chancellor's Faculty Fellows program in recognition of her research.
"The Bridge program simply would not have been possible without Keivan's vision and Vanderbilt's steadfast support," Holley-Bockelmann said. "They lit a spark nationwide to reevaluate what it takes to be a successful scientist, and they fostered talent that had previously been ignored.
"It's such a huge honor to lead the next phase of the Bridge program, and I can't wait to see the discoveries our students will make," she said. "Together with our whole Bridge family, we will dedicate ourselves to our students and to our mission to reinvigorate the STEM workforce."