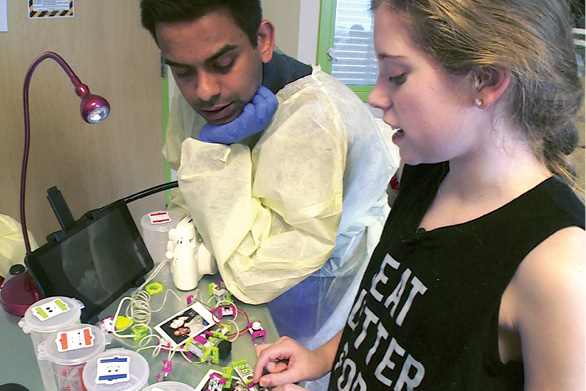 The White House recognized Gokul Krishnan, a Ph.D. student in learning sciences at Vanderbilt Peabody College of education and human development, June 12 as part of a kickoff celebration for the National Week of Making.
Last June, President Obama hosted the first-ever White House Maker Faire and issued a call to action for all Americans to encourage and "lift up" the efforts of makers, builders and doers across the country. This year the president gathered Krishnan and others to recognize them for their innovative creations, which promote the science, technology, engineering and math (STEM) fields.
Krishnan was chosen for his mobile Makerspace, a learning cart he created for patients at the Monroe Carell Jr. Children's Hospital at Vanderbilt. Also known as Project M@CH, the learning cart is equipped with LED lights, wires, microcontrollers and a 3-D printer to engage young patients who enjoy engineering activities.
Krishnan, who is from Bangalore, India, was inspired by patients with chronic illnesses he met while volunteering at the hospital. At a White House briefing, he spoke about his vision for his research, which he calls "Maker Therapy":
"The intent of these mobile Makerspaces is to provide children [who have chronic illnesses] with creative outlets and learning opportunities; but, equally important, to encourage social interchange with others and improve patient health care by increasing physical mobility," Krishnan said. "As I worked with the children, I didn't see a bunch of sick kids. I saw a bunch of really creative children."
---