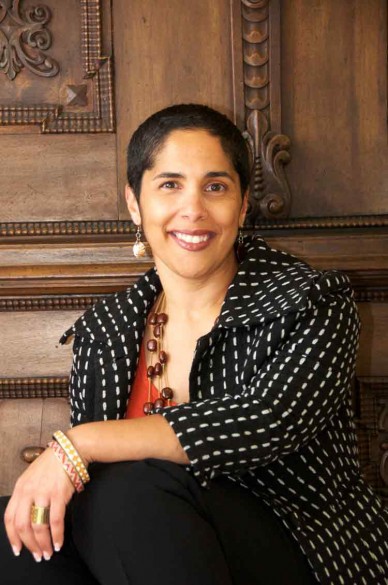 by Jane Sevier
Shirley M. Collado was honored by Peabody College of education and human development with the 2015 Distinguished Alumna Award during Vanderbilt's Commencement on May 8.
Collado, a Brooklyn-born daughter of Dominican immigrants, was the first person in her family to attend college and has the distinction of being a member of the inaugural cohort of Posse Scholars at Vanderbilt. This high-achieving group of New York City students introduced a new level of diversity to Vanderbilt's campus in 1989, and paved the way for a longstanding partnership between Vanderbilt and The Posse Foundation.
Collado completed her undergraduate degree in human and organizational development and psychology at Peabody in 1994. She went on to earn M.A. and Ph.D. degrees in clinical psychology from Duke University.
She served as executive vice president of The Posse Foundation, which she grew significantly while managing national operations. Now an expert in trauma among multicultural populations, she is a national leader in groundbreaking approaches to college access and student success.
"My experience at Peabody College was transformative," Collado said. "It's where I found my home and my center as I took intellectual, social and cultural risks. Peabody encouraged me to stretch inside myself and out in the world in ways that deeply informed my life's work and personal journey.
"My faculty, staff and administrative mentors at Peabody pushed me while embracing me fully, and reaffirmed my belief in the value of authentic and compassionate leadership that is deeply rooted in honoring the rights that every human being deserves," she said.
Collado has taught at several institutions, including New York University, Georgetown University, George Mason University, The New School, Middlebury College and Lafayette College. She was the first Posse Scholar to receive a doctoral degree and become a trustee of an institution of higher education, her alma mater, Vanderbilt.
In January 2015, Collado joined Rutgers University–Newark as executive vice chancellor and executive vice provost. In these dual roles, she leads implementation of the university's strategic plan and oversees academic affairs, student affairs, and core institutional operations. As a faculty member of the Department of Sociology and Anthropology with an affiliation in the Department of Psychology, she continues her research and teaching at the university.
"Shirley Collado has been a trailblazer in innumerable ways, and we are proud to honor her and her accomplishments with the Distinguished Alumna Award," said Camilla Benbow, Patricia Rodes Hart Dean of Education and Human Development.
Before her appointment at Rutgers-Newark, Collado was vice president for student affairs and dean of the college at Middlebury College. There, she oversaw and supported the student body and academic community and managed several departments and offices across the institution.
During her time at the Middlebury, she enhanced the Center for Careers and Internships, developed the Center for the Comparative Study of Race and Ethnicity, strengthened The Commons residential life experience, developed forward-looking sexual misconduct and judicial policies, established faculty diversity and retention initiatives, and originated a nationally recognized new-student orientation program. She also was associate professor of psychology.
In service to her profession, in 2007 Collado co-founded the Liberal Arts Diversity Officers, a national consortium that promotes advancement of diversity, equity and inclusion in support of academic excellence at liberal arts colleges. She was co-leader of LADO until 2014. Collado now leads Creating Connections Consortium, a faculty diversity and retention initiative in higher education. With a major grant from The Andrew W. Mellon Foundation, C3 is building a partnership to strengthen diversity and innovation and to broaden the pathway to the professoriate through interactions between liberal arts colleges and research universities.
Collado serves as a trustee of Vanderbilt University; and the Little Red School House and Elisabeth Irwin High School (LREI) in New York City. She lives in Newark, New Jersey, with her husband, A. Van Jordan, an award-winning poet and the first Henry Rutgers Presidential Professor at Rutgers University.