International educators leave Vanderbilt with powerful action plans
by
Joan Brasher
Apr. 28, 2015, 12:56 PM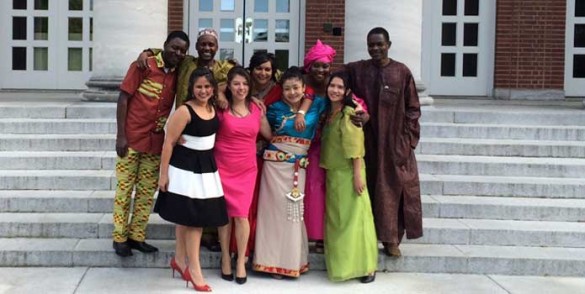 Vanderbilt's nine 2014-15 Hubert H. Humphrey Fellows are international community leaders driven by the belief that education can transform an individual—and a nation. Yet, many hail from countries where the right to education is not universally guaranteed. Now that their nearly year-long fellowship at Vanderbilt Peabody College of education and human development is coming to a close, they are making plans to implement action plans for educational reform in their home countries.
The Humphrey fellows are teachers, principals, district leaders, government officials and nonprofit managers. During their time at Peabody, they spent their days meeting with faculty, attending lectures and symposia, participating in community service projects, sharing their cultural heritage at area schools and interacting with a broad range of education and government leaders. They also participated in internships at Tennessee educational institutions, nonprofits and businesses.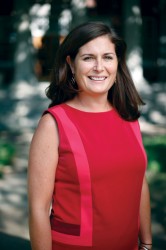 "We have been so fortunate to have such dynamic, compassionate leaders on campus and in Nashville as they have inspired us, enlightened us, and enriched our community in ways that we are never going to forget," Nancy Dickson, director of the Humphrey Fellows program at Vanderbilt, said. "The Humphrey spirit they have embodied will be carried with them as they serve as change agents in their communities and nations."
The fellows gave of their time in area schools, like Eakin Elementary, where they taught k-4 students about the games, traditions, songs and folktales of their home countries. They visited with Jay Steele, chief academic officer for Metro Nashville public schools, and toured Hillwood High School to learn about The Academies of Nashville.
They also participated in variety of service projects, including distributing food to immigrant families with Catholic Charities of Nashville, volunteering at Second Harvest Food Bank, and helping Vanderbilt students re-paint the interior of Hadley Community Center during MLK's Day of Service.
The fellows will soon depart Nashville, each with a comprehensive program they will implement in their home country:
LeSong LaMao Dongtse, who works for the Ministry of Education in the Tibetan region of China, participated in an internship with the Oasis Center, an organization offering services to youth struggling with various challenges. She plans to build a bilingual storytelling program for youth and their families in an effort to help Tibetan youth overcome the obstacles that make it difficult for them to learn.
Hilarion Vegba was an intern at MNPS's Rose Park Middle Magnet School. He is a school principal from the Republic of Benin in West Africa who seeks to break down barriers to education for girls in rural communities. His action plan includes improving every girl's right to not only to access public education but also to learn in a safe, engaging school environment.
Ousmane Bâ, an experienced teacher from West Africa's Mauritania, has been designing a project-based computer curriculum at the Nashville International Center for Empowerment (NICE), a nonprofit that works to empower immigrant and refugee populations. He returns to Mauritania with a plan to better train teachers in French and Arabic in order to improve students' pass rates on national exams.
In the area of teacher training, Siradji Mahamane of Niger and Libni Guardado of El Salvador plan to initiate English-language training programs for teachers.
Geeta Motilal of South Africa has developed teacher training programs particularly focused on professional development for school principals.
Roselle Mendoza of the Philippines aims to initiate a high school service learning curriculum that will largely be led by students and local community elders.
Both Nancy Mendy of the Gambia and Kelly Cardozo of Brazil will continue their work with students with special needs and Afro-Brazilian youth, respectively—with plans to take multidimensional approaches to empowering these young people to achieve their dreams.
CONTACT: Nancy Dickson, (615) 390-0812
nancy.j.dinunzio@vanderbilt.edu