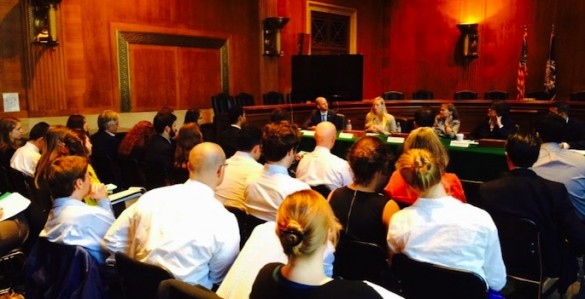 Twenty-six Vanderbilt students explored the opportunities and challenges of setting policy on federal issues and advocacy related to science, technology, engineering and math during a two-day immersion event in Washington, D.C.
The Oct. 16-17 workshop was designed to explain and demonstrate federal STEM policy and advocacy processes, and introduce the students to potential government sector and related careers many had not considered or didn't know existed.
"People often ask me if I miss the lab or miss being an engineer, and I tell them that I never stopped being an engineer," said biomedical engineering alumna Debbie Altenburg (BE'96), director of federal relations at Rensselaer Polytechnic Institute and panel participant.
"[rquote]My Vanderbilt engineering education gave me a methodical way of thinking that allows me to breakdown complex policy questions and to look for solutions.[/rquote] The policy world could use more people with the analytical skills learned while studying the STEM disciplines," she told the students. "I applaud Vanderbilt for holding its first Federal STEM Policy and Advocacy conference."
The student participants ranged from undergraduates to postdoctoral scholars and represented 20 academic fields of study, including environmental engineering, neuroscience, pharmacology, chemistry, biomedical engineering, chemical and biomolecular engineering, public policy studies, and medicine, health, and society.
The seminar featured eight panels with 19 speakers, many of whom are Vanderbilt alumni. Speakers covered topics such as the history of U.S. science and technology policy, the federal budget process, and the role of coalitions in policy making.
Several panels also addressed career-oriented topics such as the value of professional societies and fellowship programs, the experience of working on Capitol Hill, and career opportunities in science policy and advocacy
Students also participated in a mock congressional conference committee for the spending bill that funds many science-related agencies. As part of the simulation, participants role-played the part of senior legislators to produce an agreement that set funding levels and policy priorities for the coming year.
"By far, though, the most valuable part of the program was the opportunity to network with key people in the field. I was very impressed that Vanderbilt was able to recruit such high-level STEM policy professionals to work with us," said Wesley Bond, a postdoctoral scholar in ophthalmology and visual sciences
The program was hosted by Vanderbilt's Office of Federal Relations in partnership with the School of Engineering, the Graduate School, the School of Medicine's Biomedical Research Education and Training Office, and the Center for Student Professional Development. The original idea for the Vanderbilt workshop came from a similar program created and run by the American Association for the Advancement of Science.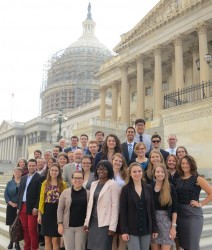 "The AAAS opportunity was an inspiration, but it also highlighted the disconnect between the availability of public policy experiences and the interest of Vanderbilt students — undergraduates, graduate students and postdoctoral scholars. I discussed the idea of providing a Vanderbilt-sponsored opportunity for public policy exposure with Christina West, assistant vice chancellor for federal relations," recalled Todd Giorgio, professor and chair of biomedical engineering.
West's interest in such a Vanderbilt-centric program resulted in a conversation with Cindy Funk, director of the Center for Student Professional Development, who was equally interested in undergraduate student participation.
The emerging campus collaboration grew to include Kim Petrie, BRET director of career development; Ruth Schemmer, assistant dean in the Graduate School, whose offices provided support for participation of graduate students and postdoctoral scholars; Ken Galloway, distinguished professor of electrical engineering and instructor for the science, engineering and public policy undergraduate course; and Chris Rowe, director of the division of general engineering and engineering communications.
The group of faculty and administrative organizers will meet later this semester to discuss the next steps around science and engineering policy initiatives. "I think it is clear we've hit on something, and we'll see where we're able to take it," West said.
By Chris Rowe