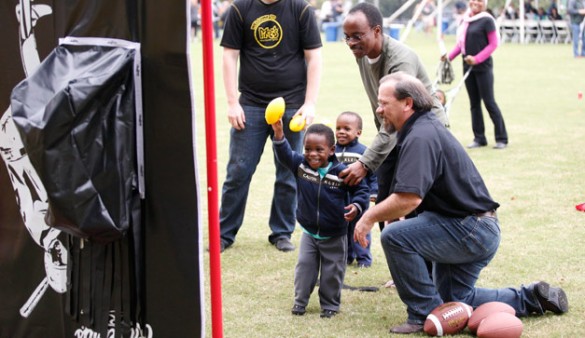 Vanderbilt employees and their families came out by the thousands Sept. 13 for the annual Employee Tailgate celebration.
Damp, chilly weather didn't stop more than 4,000 members of the Vanderbilt community from converging at Recreation Field #2 to participate in a fun-filled morning prior to the Vanderbilt-UMass football game. Attendees enjoyed lunch catered by Famous Dave's Barbeque and took part in karaoke and line dancing. There were a host of activities for children as well, including inflatables, a football toss and face painting.
The Vanderbilt Recreation and Wellness Center and Health Plus led an activity on healthy eating and provided information about Go for the Gold, while the University Staff Advisory Council applied Vanderbilt temporary tattoos to those who wanted to "show their gold" on their faces and arms.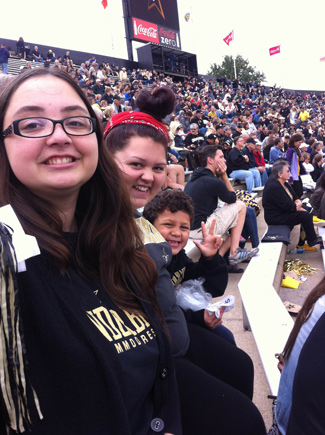 Employees and their families watched the Vanderbilt Spirit of Gold Marching Band and Commodore cheerleaders travel past Tailgate on their way to Star Walk, and some fans headed to Star Walk themselves to catch a glimpse of the football team heading into the stadium. More than 3,000 game tickets were distributed to employees, who watched the Commodores rally to defeat UMass 34-31.
"I want to express my gratitude for the wonderful Employee Tailgate on Saturday," remarked Shirley Schettino, assistant to the associate deans of the libraries. "It was a nice, cool day, and my family and I enjoyed it just as much as last year. I love working at Vanderbilt and enjoy being with my colleagues from across campus. These types of events are spirit-builders, especially when our families are included."
View more photos from Employee Tailgate.
For more information about employee celebrations, visit the Employee Celebration website.