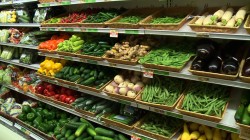 Join Marilyn Holmes Friday, Aug. 22, noon-1 p.m. at the Vanderbilt Recreation and Wellness Center Demonstration Kitchen, as she creates healthy recipes using cole crop vegetables.
Learn how to go gluten-free with crusts made from cauliflower; check out the taste of kohlrabi; and earn to make a delightful sauce. Go home with samples and recipes.
Marilyn Holmes has more than 30 years of experience as a registered dietitian and population health management. Her diverse professional background includes experience in hospitals, an educational institution, nursing homes, and the public health sector at local, regional and state levels. Currently, she is associate director with the Vanderbilt Recreation and Wellness Center. Marilyn has appeared on television talk shows, presented to groups at local, state and national levels, and authored/coauthored publications on a variety of health topics. Come and be inspired by the taste of cooking healthfully.
For more information, email healthplus@vanderbilt.edu or call 343-8943, or at the VRWC email marilyn.c.holmes@vanderbilt.edu  or call 343-2638.