Evaluating a student's written work against Common Core State Standards will be made easier for teachers at Nashville Prep charter school thanks to a toolkit created by 2014 graduate Lisa Koenig.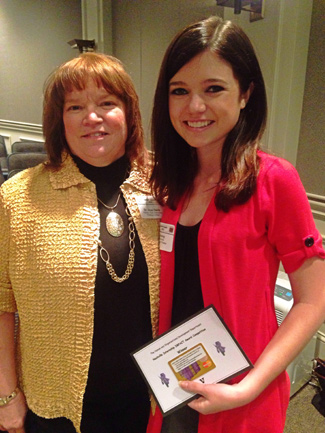 A panel of judges on Wednesday awarded Koenig the 2014 Senior Project IMPACT Award. Dorothy Buckner, who interned in Nissan North America's Diversity Office, was the runner-up. Koenig and Buckner were among six finalists out of 226 Human and Organizational Development senior projects this year.
While hand grading hundreds of papers under the tutelage of her advisor at Nashville Prep, Greg Schermbeck, Koenig saw the need to take the rubric used for grading and create an electronic toolkit that would align with the soon-to-be-implemented CCSS writing curriculum. She built a writing guide, an electronic writing rubric and a curriculum guide, and she launched a pilot project.
Along the way, she developed a zeal for the work and has accepted a job post-graduation as KIPP Nashville Collegiate's high school writing teacher. "I came into this university thinking I would leave as an international business consultant," Koenig said. "But I have become passionate about my career choice to be an educator."
During her internship, Buckner created bylaws, websites and other tools to further collaboration among Nissan's Business Synergy Teams to help promote diversity at the company. Her work reduced redundancies, established procedures and policies implemented throughout Nissan North America and freed the Diversity Office to focus on other projects, she said.
Along the way she learned that promoting diversity "is not just the right thing to do but elevates the brand and allows acceleration of business moving forward."
Other HOD IMPACT Award presenters were:
Sarah Kenny, who helped develop a curriculum to train the staff of Thistle Stop Café for a new menu launch. The café, which opened on Charlotte Avenue last summer, has moved toward preparing food in house to reduce costs and increase profits rather than relying on third-party vendors. Thistle Stop is a social enterprise providing jobs for participants and graduates of the Magdalene program for women who are survivors of addiction, prostitution and sex trafficking.
Harrison Klein, whose project for UBS in the Nashville office focused on marketing to millenials. Klein produced marketing and other materials aimed to attract "emerging affluent investors." He created a calculator tool to show young investors how small lifestyle changes channeled into investments could translate to significant benefits later in life.
Li Qu also interned with Nissan North America, but in their Talent Acquisition Department. She analyzed Nissan's recruiting challenges and then created an "employer branding playbook" as part of a strategic plan. Along the way, she helped identify and suggest changes in the company's employee recruitment website that would be more appealing to job applicants.
John Valgoi created a software enhancement playbook for Caterpillar Financial's business technology department. The playbook increased standardization in the enhancement processes for each of the software applications. Following implementation, the enhancements decreased the time for each of 39 successful enhancements.
Beth Shinn, HOD department chair, noted that the HOD internships are the capstone to the major and offer students an opportunity to make a "significant impact" on an organization. HOD interns undertook projects at local organizations that included Country Music Television, local law firms, financial services marketing and public relations firms, the public defender's office, Metro Schools, Make-A-Wish Foundation, the Monroe Carell Jr. Children's Hospital at Vanderbilt, Oasis Center, the Metro Nashville Mayor's office, WTVF-TV and the Nashville Food Project.
Victoria Davis, director of the HOD internship program, created this event four years ago. The IMPACT judges included Candy Markham, director of the Nashville Mayor's Office of Children and Youth; Dianne Gore, IT business applications consultant; Dana Mastropieri, director of talent acquisition and compensation for Hospice Compassus; Ryan McCostlin, founding team member for Bernard Health; Dan Surface, chief executive officer for Dismas Inc.; and Craig Smith, associate dean of undergraduate studies at Vanderbilt's Peabody College for education and human development.