Director of campus recreation to retire after 50 years of service
by
Kara Furlong
Aug. 28, 2013, 10:08 AM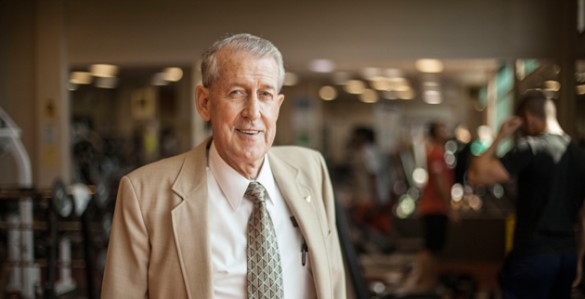 Be careful when choosing your first job, advises Sam Hirt, director of campus recreation at Vanderbilt, because it might end up being your career.
That's what happened to Hirt, who had just completed a master's degree in physical education at George Peabody College when he applied for the position of Vanderbilt's first full-time director of intramurals. Hired by then-Vice Chancellor Rob Roy Purdy, Hirt's first day on the job was Labor Day, Sept. 2, 1963.
This Sept. 2—also Labor Day—Hirt will retire after 50 years of service to the university. When he started, campus recreation's domain was little more than part-time use of Memorial Gym and a few athletic fields. Under his leadership, it has grown to include a 136,000-square-foot stand-alone Recreation Center, opened in 1990, and will soon include the 170,000-square-foot addition that's currently under construction.
Over the years, Hirt has been involved in the planning of every campus recreation expansion south of Memorial Gym. Through it all, he has strived to keep students' best interests at heart.
"Like any job, there's a lot of planning that goes into what your dreams and goals are," Hirt said. "I have always dreamed of getting more for the students. The primary reason we're here is the students."
In 1970, Hirt was named head of physical education at Vanderbilt. One of his first orders of business was to combine the men's and women's physical education programs, giving female students more access to facilities and equipment. He was several years ahead of Title IX and its implementation on university campuses with regard to college athletics.
Scheduling the students' use of Vanderbilt's limited recreation spaces became a carefully honed juggling act for Hirt, with varsity team practices and games taking priority over club sports. In 1983, then-Chancellor Joe B. Wyatt convened a student-led committee to plan for the future of campus recreation at the university. Five years later, Wyatt called for a referendum asking students to decide if a portion of their activity fee should support the construction and maintenance of a new, stand-alone recreation center.
Hirt guided the tasks of meeting with dozens of student groups to gather their input and exploring multiple construction options for the proposed recreation center. The challenge, he said, was convincing upperclassmen to vote on a facility that wouldn't be completed until after they had graduated.
"The freshmen and sophomores would be able to use the recreation center, but juniors, seniors and graduate students would be gone by the time it was built," said Hirt, who appealed to the older students' sense of civic responsibility. "I told them, 'You may continue to live in the Nashville area. You're voting on a new fixture in the community. Your children and their children may come to use the facility.'"
In the end, students voted overwhelmingly to build the center, choosing the most elaborate construction option. It opened in 1990.
A driving mission of campus recreation has always been to give students a fun, productive alternative to their academic lives. Hirt shared an interesting statistic.
"The admissions office has told me that more than 60 percent of our young men and women who come in as students have participated in high school athletics," he said. Only a small portion of these students are scholarship athletes, "but the rest have athletic ability and want to continue to play sports in some way. Campus recreation allows them to latch on to a sport club team that provides an athletic outlet, or they try a brand-new activity that requires athletic ability and teamwork. That's why the program continues to thrive."
Hirt founded the sport club program in the early 1970s. One of the first clubs was composed of five female students, who walked into his office one day wanting to start a basketball team pre-Title IX. The program has grown to nearly 40 clubs representing sports as varied as rowing, fencing, hang gliding, soccer, ice hockey, field hockey, equestrian, ultimate Frisbee and seven kinds of martial arts.
Hirt has always maintained an open-door policy when it comes to students, no matter how outside-the-box their ideas for new clubs might be. "Because I've been here a while, I've seen noes become yeses. I've told students, 'Just hold on. We might not have the money right now, but it's a good idea. We'll work on it.' It just takes planning and organization and the desire to want to meet their needs," he said.
The Recreation Center employs 150 student workers, whose schedules and reliability aren't always predictable, but Hirt remains steadfast in his support of them. "Working here gives students the opportunity to develop their work ethic, and it helps out their moms and dads," he said. "And this is a fun place to work. Most of their friends come through here at one time or another."
The center also employs a full-time staff of about 15, whom Hirt credits—down to the housekeeping and maintenance staff—with keeping the campus recreation ship afloat.
Over the last 23 years, thousands of Nashville-area children have spent their summers and holidays attending camps hosted by the Recreation Center. They have learned to conquer the water at the Vanderbilt Swim School. The center has become the community touchstone that Hirt predicted.
That communal potential will only grow as the Recreation Center prepares to open its new field house in late October. The addition will feature a 120-yard indoor practice field surrounded by a 300-meter, eight-lane track. Renovations to the existing Recreation Center will be complete by January 2014. They include an enlarged fitness area and weight room, a basketball/volleyball gym, a four-lane bowling alley, two regulation-sized squash courts, an outdoor basketball area, new offices for Health Plus and more.
The Health Plus move will consolidate all health and wellness resources for staff, faculty and students at Vanderbilt. Hirt said that he anticipates the additional space and extended hours will increase membership of the Rec Center—which usually sees about 2,000 visitors a day—by as much as a third.
Hirt sums up his career at Vanderbilt simply. "I've been a planner, a dreamer and a doer," he said. "It's been fun, and it's not over. This is huge, what's taking place now."
As Vanderbilt's first and only director of campus recreation, he offers this wish for the next person at the helm.
"My prayer would be that they continue to work for and listen to the students," he said.
The Department of Student Athletics will host a retirement reception for Hirt on Monday, Sept. 16, from 3 to 5 p.m. in the Student Life Center's Board of Trust Room. The Vanderbilt community is invited to attend.