Alumni Hall's yearlong renovation is nearly complete, while construction on the Vanderbilt Recreation and Wellness Center reaches a milestone. Read about these projects and more below, and check out more photos.
College Halls at Kissam

The construction of two new residence halls and a dining center at the former Kissam Quadrangle site, a project begun last summer, is proceeding on schedule. Electrical startup is in process, with all systems planned to be operational by the end of June. Interior finishes will begin in one of the residence halls in July.
View the webcam documenting the College Halls at Kissam project.
Completion date: May 2014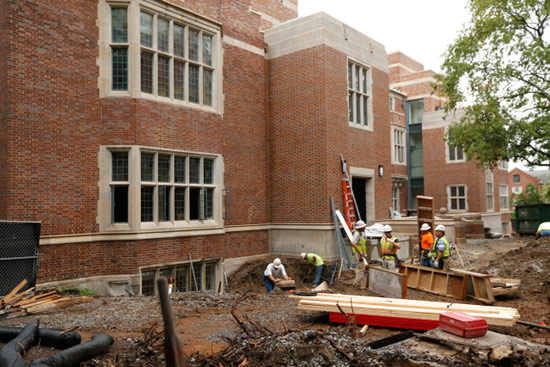 Alumni Hall

The renovation and addition to historic Alumni Hall is nearing completion. The project, begun last summer, includes a new classroom, music lounge, exercise room, writing center, faculty office suite, café and expansion of the building's outdoor terraces. Interior finishes and fit-out continue; the sidewalks and parking area between Kirkland and Alumni halls are being reworked; and mechanical startup will occur by mid-July.
Completion date: mid-July 2013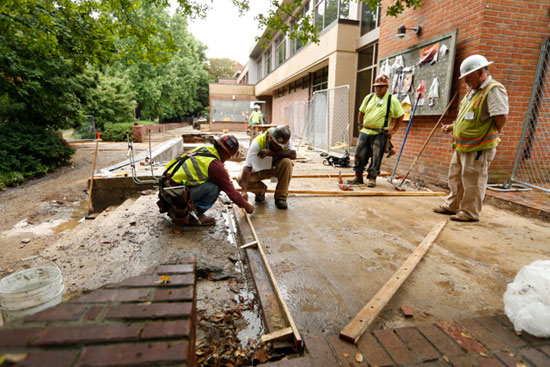 Rand Hall East Terrace
A renovation of Rand Hall's East Terrace—also known as "The Wall"—and nearby sidewalks is underway. Demolition is complete, and waterproofing and hardscape construction have begun.
Completion date: August 2013
Benson Hall, Furman Hall
The HVAC systems throughout these buildings are being replaced to improve air quality, service and temperature control.
Completion date: mid-August 2013
Central Library
Improvements to the outdoor terrace adjacent to Special Collections are complete. A renovation of the Divinity Library's display cases and the installation of an energy efficient lighting control system will begin in mid-July.
Completion date: mid-August 2013
The Martha Rivers Ingram Commons
The faculty apartment in West House is being expanded, and an accessibility ramp to connect Hank Ingram House with The Ingram Commons' lower quad is being installed.
Completion date: August 2013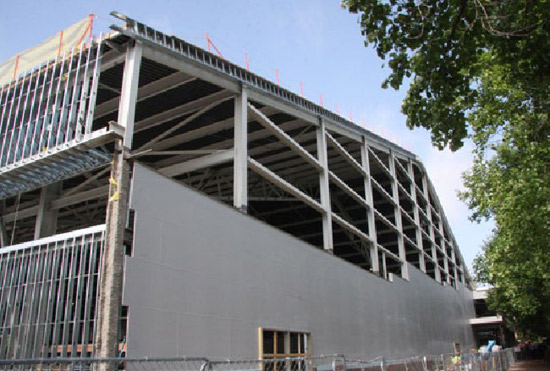 Vanderbilt Recreation and Wellness Center
Construction of a 120-yard indoor practice field surrounded by a 300-meter, eight-lane track is on schedule. Roofing of the field house is complete, and painting and finishes are beginning on the inside.
Completion date: late-October 2013
Renovations to the existing Recreation Center include an enlarged fitness area and weight room, a basketball/volleyball gym, a four-lane bowling alley, two regulation size squash courts, an outdoor basketball area, Health Plus offices and more.
Completion date: January 2014
Vanderbilt Legends Club
A new facility to serve the Vanderbilt men's and women's golf teams, including locker rooms, offices and meeting space, is nearing completion.
Completion date: mid-August 2013