Media Inquiries
Latest Stories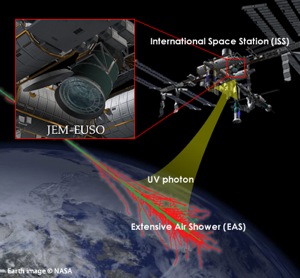 NASA has awarded $4.4 million to a collaboration of scientists at U.S. universities and NASA's Marshall Space Flight Center to help build a 2.5-meter ultraviolet telescope called the Extreme Universe Space Observatory (EUSO) for deployment on the International Space Station (ISS) in 2017.
The telescope, to be deployed on the Japanese Experiment Module (JEM), will study the energy spectrum, nature and origins of cosmic rays. These cosmic rays produce UV light that will be detected by the telescope. U.S. institutions will use the NASA grant to build lasers, flashers and monitoring equipment that will be used to calibrate the telescope's optics from 20 locations around the globe as the ISS passes overhead. Associate Professor Steven Csorna of Vanderbilt University will collaborate with physicists from the Colorado School of Mines to develop and maintain these ground-based light sources.
Angela Olinto, professor in astronomy and astrophysics at the University of Chicago, leads the U.S. collaboration, which includes scientists at the Colorado School of Mines, University of Alabama in Huntsville, Vanderbilt University, University of California at Berkeley, University of California Los Angeles, University of Wisconsin-Milwaukee, and the Marshall Space Flight Center. Two Vanderbilt theorists, Professors Andreas Berlind and Thomas Weiler, are also members of the International JEM-EUSO Collaboration.