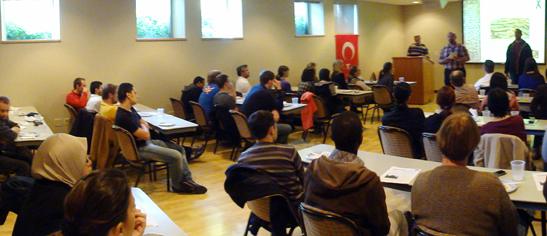 World on Wednesdays, presented by International Student and Scholar Services, features a different topic of global interest each week, with presentations by students, staff and faculty. The gatherings take place on Wednesdays from 12:10 to 1 p.m. in the Student Life Center's Lower Level Meeting Rooms 1 & 2.
Upcoming events include:
Women in Islam: Case Studies from Pakistan and Morocco
Wednesday, March 13
Presented by: Marwah Shahid
The Travel 4 Souls Program
Wednesday, March 20
Presented by: Jessica Younker, Soles 4 Souls
Current Events in Niger
Wednesday, March 27
Presented by: Nana Bilali Ka, Humphrey Fellows Program
Vegetarianism and the Environment
Wednesday, April 3
Presented by: Vanderbilt Initiative for Vegetarian Awareness
Go online to view the World on Wednesdays spring schedule.
Go online to view the International Lens series.
Contact: Radhika Reddy, (615) 322-2753
radhika.reddy@vanderbilt.edu