Media Inquiries
Latest Stories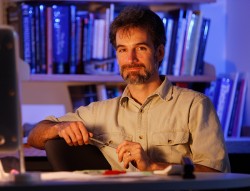 Kenneth Catania, Stevenson Professor of Biological Sciences at Vanderbilt University, is one of 18 scientists who have been honored by the National Academy of Sciences for their outstanding scientific achievements in a wide range of fields spanning the physical, biological and social sciences.
"I have had the great pleasure of working with Ken Catania as his dean and as provost," said Provost and Vice Chancellor for Academic Affairs Richard McCarty. "His research is innovative and of high impact and he is a master teacher. The Pradel Award is the most recent of a series of prestigious awards to recognize Ken's achievements and it is richly deserved."
Catania is only the second person to receive the Pradel Research Award, which is presented with $50,000 to support the recipient's research. According to the citation, [rquote]Catania "is a pioneering neuroethologist who has carried out highly imaginative investigations of the neural basis of sensory behavior…"[/rquote]
Catania's studies of mammals that possess specialized sensory capacities, such as the star-nosed mole, naked mole-rat and water shrew, have led to discoveries of fundamental principles of behavior, sensory processing and brain organization which have resulted in new insights about the evolution of the nervous system.
The recipients will be honored in a ceremony in April during the academy's 150th annual meeting. The academy is a private, nonprofit institution established under a congressional charter in 1863 to provide the federal government with science, technology and health policy advice.