Media Inquiries
Latest Stories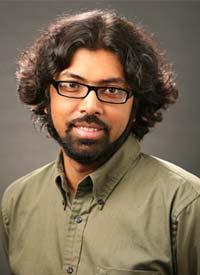 Pratim Sengupta has received recognition – and funding – for research he hopes will reshape elementary, middle and high school science as we know it. Sengupta, assistant professor of learning
sciences and science education at Vanderbilt's Peabody College of education and human development, has won a prestigious Faculty Early Career Development award from the National Science Foundation for his research on computational reconstruction of kindergarten through 12th-grade science.
The five-year, $754,000 CAREER award will be used by Sengupta's lab to continue the development of ViMAP, a visual programming language and modeling platform designed to integrate computer
programming and modeling with K-12 science classrooms.
"Recent decades have seen computational thinking and modeling emerge to be a key element in scientific and engineering expertise," Sengupta said. "Infusing computational thinking and the use of computational tools into K-12 science curriculum could promote this expertise among the younger minds that are the future in these fields; however, integrating general purpose computational programming with K-12 curricular science has been challenging."
Sengupta's CAREER project, "CoRe-Science: Computational Reconstruction of K-12 Science," will address these challenges by developing the ViMAP visual programming language and modeling environment and integrating it with physics and biology curriculum. The products will include new learning technologies that can be widely disseminated.
"This NSF award will enable me to investigate foundational questions in educational design," Sengupta said. "First, how can a particular form of computation – multi-agent-based computation
– change the scientific domains as we know them, especially for K-12 students?
And second, how does the design of such computational platforms need to change for integration with K-12 science, given the realities of our public school classrooms?"
The CAREER award is the National Science Foundation's most prestigious award in support of junior faculty who exemplify the role of teacher-scholar through outstanding research, excellent education and the integration of education and research. Sengupta's CAREER award was given through the National Science Foundation's Office of Cyber Infrastructure.
Sengupta is the first Peabody researcher to receive a CAREER award since its inception in 1995.