Media Inquiries
Latest Stories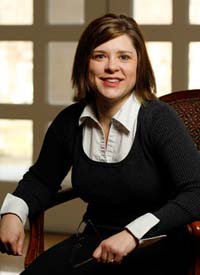 Vanderbilt University's Programs for Talented Youth at Peabody College will offer accelerated academic opportunities for up to 60 low-income gifted students through a $232,000 grant from the Jack Kent Cooke Foundation. Students from the highest-poverty urban and rural districts in Kentucky, Alabama and Tennessee will be recruited for participation in Vanderbilt Summer Academy, a summer residential program for rising 8th-12th graders, and the Summer Academy at Vanderbilt for the Young for rising 1st-7th graders.
The students will participate in summer pre-collegiate programs led by Vanderbilt faculty as well as specially designed workshops, meetings and communication networks throughout the school year.
"This grant has the potential to impact the lives of gifted students of poverty and their families for years to come while also contributing to the limited research base of this special population," said Tamra Stambaugh, research assistant professor of special education and director of Vanderbilt Programs for Talented Youth.
This is the first external funding for PTY, which has always offered financial assistance to students in need but will be able to offer greater monetary awards through this grant. PTY will also offer educational support for families and school counselors as part of this initiative in collaboration with Vanderbilt University's undergraduate admissions office.
"We are excited to provide access to students who would otherwise be unable to participate in our programs" says Jennifer Pitts, program coordinator for Vanderbilt Summer Academy.
"Our aim is that this opportunity will spark lifelong engagement in learning and instill confidence, allowing these students to excel at the highest levels in their chosen fields."
Researchers within PTY hope to learn more about alternative methods of identification for gifted students of poverty and how those identification measures predict student performance in accelerated academic environments. Further, they will explore the intra- and interpersonal talent development factors that contribute to student achievement.