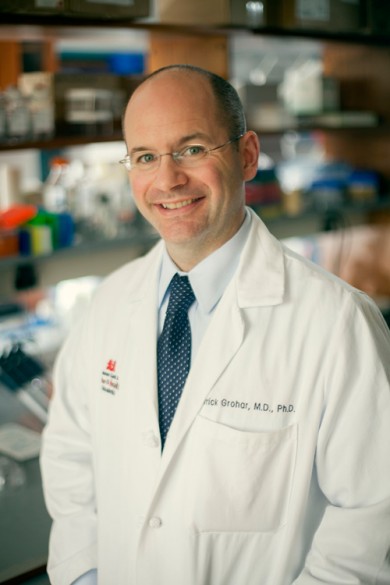 Bad handwriting may have led Patrick Grohar to a rather impressive career.
"My third-grade teacher told me my handwriting was so bad that I should be a doctor," joked Grohar, assistant professor of pediatrics, hematology and oncology. "That stuck with my mom, who encouraged that train of thought."
Or perhaps it was Grohar's love for sports and science that led him on a collision course with the medical and research worlds. As a midfielder in lacrosse, he was focused and committed. He mirrored those skills in the lab, where his attention was on research and chemistry.
"A lot of athletes want to do medicine because, like sports, it takes a lot of discipline," he said. "It's the same type of focus—being able to do competitive things over and over."
Grohar came to Vanderbilt in January from the National Cancer Institute, bringing with him his passions and self-motivation for lab-based work. His research focuses on drug discovery in pediatric sarcomas, cancers that develop in bone and soft tissues.
Specifically, he studies Ewing's sarcoma, a cancerous tumor that grows in the bone, often during puberty. He is developing new therapies to block a cancer-causing protein expressed in patients with Ewing's.
One of the identified compounds, mithramycin, will be the subject of a trial at the National Cancer Institute—a study that could be expanded to include Vanderbilt.
"Moving forward, we're looking to improve the activity of the drug, minimize toxicity and make it a true molecularly targeted therapy," he said. "[lquote]Vanderbilt is the place where the facilities exist to do this type of work, and with the commitment being there, I think it's really an opportunity for our medical center."[/lquote]
For his research into potential drug therapies for Ewing's sarcoma, Grohar recently was awarded a $250,000 Hyundai Hope on Wheels grant, the largest one-time grant the company has given to a pediatric cancer researcher at Vanderbilt. He also was awarded a $100,000 grant from the St. Baldrick's Foundation, a volunteer-driven charity for childhood cancer research.
Grohar said he's excited about the prospects and research opportunities available at Vanderbilt.
"It's a great division, and it's really growing," he said. "I love what I do, and I believe in the projects, science and education. I love having people in the lab and them getting fired up about science. I love teaching and seeing patients. I love being at work."
View the complete list of new medical faculty for 2012.
View the complete list of new university faculty for 2012-13.