Take a campus walk with senior leaders Nov. 6
by
Stacey Kendrick
Oct. 31, 2012, 2:16 PM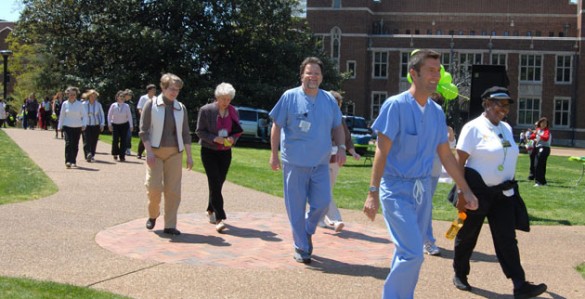 Join Vanderbilt senior leaders for walks starting at five campus locations and ending at Health Plus atop Kensington Garage, where healthy refreshments, music and activities designed to promote physical activity will be available.
The Senior Leader Walk is scheduled from 11:45 a.m. to 12:30 p.m. Tuesday, Nov. 6.
Leaders and starting locations:
Vice Chancellor Jeff Balser and Chief Nursing Officer Marilyn Dubree
Medical Center Plaza
Provost Richard McCarty
Kirkland Hall
Dean Colleen Conway-Welch
Godchaux-Frist Hall
Associate Dean Sharon Shields
Peabody Library
Chief of Staff Meg Rush and Associate Hospital Director Susan Hernandez
Monroe Carell Jr. Children's Hospital at Vanderbilt
Print a flyer to post in your department.
For more information, visit the Health and Wellness website.