Open Enrollment is Oct. 17-31
Oct. 4, 2012, 7:30 AM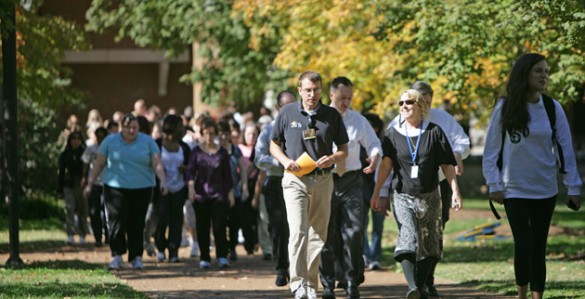 Open Enrollment is your opportunity to elect the benefits that suit your needs for 2013. This year's Open Enrollment is Oct. 17-31, and during that time you will select (or waive) the following benefits:
Health plan (choose or opt-out)

Dental plan (voluntary)
Vision plan (voluntary)
Short-term disability insurance (voluntary)
Accidental death and dismemberment insurance (voluntary)
Flexible Spending Accounts (voluntary)
Like last year, this is an active enrollment. That means that you need to make benefits elections between Oct. 17-31. Even if you aren't planning to change your benefits, you still need to enroll to ensure that you get the right coverage in 2013. If you don't enroll, your default coverage will be the Aetna Plus (formerly Aetna Standard) employee-only plan for medical. It will not include dental, vision or AD&D coverage or participation in the Flexible Spending Accounts.
What's new for 2013?
Short-term disability insurance (staff only)
This insurance is critical for staff who may not have accrued sick time or who have little available due to past use. This is the modern "sick bank" meant to continue pay during a covered injury or illness, and we encourage staff to enroll in this important benefit. In the past, staff may have been discouraged by the insurer's requirement that new enrollees submit health information. But we have reached an agreement with our new provider, Unum, to allow staff to enroll this year regardless of their current health status. After this initial opportunity, new enrollees will need to submit health information and coverage may be denied. Enroll online using the Open Enrollment Tool (not using the provider's website as in years past).
2013 Health Plan premiums
Premiums have been adjusted for 2013. See the Detailed Guide on the Open Enrollment website for plan changes.
Flexible Spending Accounts (FSAs)
Pre-tax accounts for health care have been lowered in accordance with federal law from $3,600 to $2,500 per employee. The dependent care FSA contribution limit remains $5,000 per household.
Adjustments to deductibles and out-of-pocket limits
The Aetna HealthFund plan will have separate deductibles, just like the BCBST Select and Aetna Plus plans for 2013. All of the health plan options have had some adjustments to deductible and out-of-pocket amounts, with the best benefit levels found in the Tier 1 networks.
Dental plan 
Premiums have been adjusted for the CIGNA DHMO plan. The BlueCross BlueShield DentalBlue PPO premiums will remain the same.
Health care reform
What does health care reform mean for your medical benefits next year? Primarily, there are new preventive care guidelines and services for women, which means a wider range of covered routine services that are not subject to co-payment.
New Aetna name
To reflect the ongoing expansion of Aetna programs, the Aetna Standard plan is now referred to as Aetna Plus.
What do I need to do?
Explore your options.
Visit the Open Enrollment website. The site features a Detailed Guide, FAQs, a narrated presentation, links to carrier/provider websites and more.
Attend the Vanderbilt Benefits and Health Fair on Oct. 10-11. Benefits staff, as well as provider representatives, will be available to answer questions.
Enroll online from Oct. 17-31.
Online enrollment starts at 8 a.m. on Wednesday, Oct. 17, and ends at 11:59 p.m. on Wednesday, Oct. 31. To enroll, go to the Open Enrollment website and click on the "Enroll Now" button.
If you have any questions, your HR colleagues at the Employee Service Center are here to help. Contact them at 343-7000 or human.resources@vanderbilt.edu.
Contact: Employee Service Center, (615) 343-7000
human.resources@vanderbilt.edu