Democrats will be disappointed if they believe a video clip of presidential candidate Mitt Romney dismissing 47 percent of Americans as not paying federal income tax and "believing the government has a responsibility to care for them" will turn the election in President Obama's favor, shows a Vanderbilt/YouGov Ad Rating Project.
A collaborative poll by YouGov and Vanderbilt University found that the just more than one-minute video first posted on the Mother Jones website had little effect on swing voters who will probably decide the Nov. 6 election. Twenty-four percent of the swing voters said the video decreased the chance they would vote for Romney, and 20 percent said it would increase the chance he would get their vote.
"That is a gap of only 4 percentage points. The fundamentals of the race are unmoved," said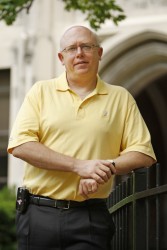 John Geer, Gertrude Conaway Vanderbilt Professor of Political Science at Vanderbilt. "I think this is an example of the media not liking the clip, while the public is not so bothered."
As expected, the clip made an overwhelming number of Democratic voters (76 percent) "angry." It angered only 6 percent of Republicans and 39 percent of swing voters.
"These responses are VERY similar to the public's reactions to negative ads aired by Obama," Geer said, adding that Romney currently has a 43 percent favorability rating among the public, which is actually a bit higher from the last ad tested by the Vanderbilt/YouGov Ad Rating Project.
YouGov used a representative sample of 600 Americans, with an over-sample of 177 independent voters, to rate the "47 percent" clip.