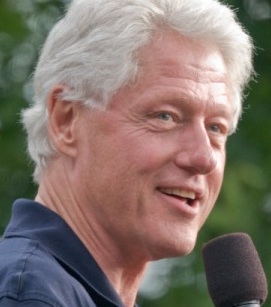 Data of voter reaction to two similar political ads – one featuring President Obama and the other former President Clinton – suggest that Clinton is the better motivator of the Democratic political base.
The ad with Obama, titled "The Choice," featured the president making his case for re-election directly to the public. A similar ad was subsequently released with Clinton making roughly the same arguments. Both ads promote Obama in the November presidential race against Republican Mitt Romney.
"President Obama has a plan to rebuild America from the ground up," Clinton says in his ad. "It only works if there's a strong middle class."
"The Vanderbilt/YouGov Ad Rating Project did not find the ad that used Obama to be particularly effective, despite speculation in the press that it was an ad that played well with swing voters," said John Geer, Gertrude Conaway Vanderbilt Professor of Political Science at Vanderbilt and the leader of the Ad Rating Project.
The ad that used Bill Clinton seemed to resonate mostly with the Democratic Party base.

"Most of the strong reactions come not from Republican or swing voters, but among the base – self-identified Democrats," Geer said.
Both ads "disgusted" many Republican voters (66 percent for the ad featuring Obama, 64 percent for the ad featuring Clinton).
YouGov uses a representative sample of 600 Americans, with an over-sample of 200 independent voters, for the poll. Results and a link to both the Clinton- and Obama-narrated ads are posted on The Vanderbilt University/YouGov Ad Rating Project website.
The Clinton-narrated ad made those surveyed slightly happier (31 percent for Clinton compared to 26 percent for Obama) and more hopeful (25 percent to 20 percent) than the ad starring Obama, the survey found. Sixty-five percent of those surveyed found the Clinton-narrated ad to be memorable, versus 58 percent for the Obama-narrated ad.
"Clinton seemed to generate small upticks in turnout and willingness to support Obama," Geer said. "The Clinton ad rallied the base a bit, something that Obama is less able to do at this stage of the campaign."
Seventy-eight percent of the Democrats polled who saw the ad featuring Clinton said they definitely planned to vote in the Nov. 4 election, versus 74 percent who saw the ad featuring Obama.