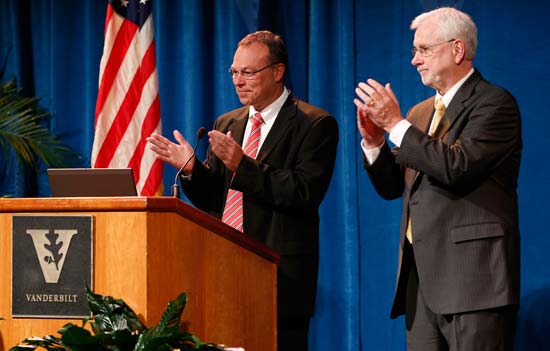 To see a slide show of photos, visit Vanderbilt's Flickr page.
Earl Sutherland Prize for Achievement in Research was presented to Peter Buerhaus, the Valere Potter Distinguished Professor in the School of Nursing and director of the Center for Interdisciplinary Health at Vanderbilt University Medical Center, at the Fall Faculty Assembly Aug. 23. (Read myVU story on the Fall Faculty address.)
The award, the most prestigious honor that Vanderbilt bestows on a faculty member, is given annually to a member of the faculty whose achievements in research, scholarship or creative expression have received significant critical acclaim and are recognized nationally or internationally.
"As a nurse and a healthcare economist, Peter is widely considered as one of the most influential workforce experts in our nation," Chancellor Nicholas S. Zeppos said of Buerhaus, who joined Vanderbilt in 2000, by way of Harvard School of Public Health.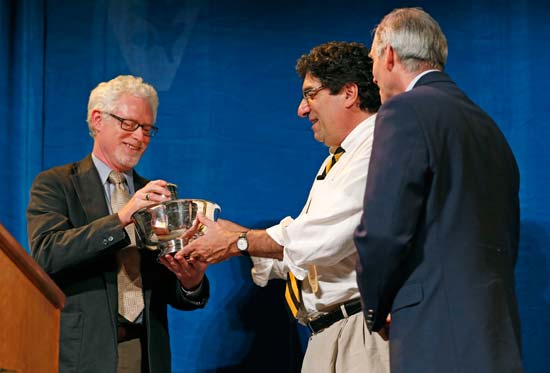 Buerhaus has worked to build a research program at Vanderbilt that includes studies on economic issues affecting the nursing workforce and that develops and tests measures of hospital quality of care, Zeppos said.
Buerhaus was recently appointed to serve on an Institute of Medicine planning committee to shape an initiative to examine the governance of graduate medical education in the United States.
"His visionary work has impacted nurses, physicians, policy makers, the media, private sector organizations, foundations, researchers, state and federal agencies, and members of Congress," Zeppos said.
The Sutherland prize consists of $5,000 and an engraved pewter julep cup, and the winner's name is added to a silver bowl, which the recipient keeps for one year.
Zeppos presented the Thomas Jefferson Award to Vanessa Beasley, associate professor of communication studies, who co-chaired the Faculty Senate Student Life Committee and co-authored the Student Life Committee Report on The Honor System. Through her involvement with Next Steps at Vanderbilt, a two-year certificate program for students with intellectual disabilities, Beasley was one of the first professors at the university to include Next Steps students in her classes, Zeppos said.
"She is a true pioneer in providing learning opportunities for individuals with intellectual disabilities and has willingly advised other faculty considering including Next Steps students in their classes," Zeppos said. "In all endeavors, Vanessa's service reflects a commitment to fostering a positive, nurturing university environment where scholarship, teaching, and creativity flourish. She is deeply dedicated to sustaining a culture in which faculty, students, and administrators work collaboratively for the greater good."
The Thomas Jefferson Award recognizes distinguished service to Vanderbilt by a faculty member. It is accompanied by a $2,500 prize and an engraved pewter goblet.
Five Chancellor's Awards for Research also were named:
Colin Dayan, professor of English and the Robert Penn Warren Professor of Humanities, for her book, The Law Is a White Dog: How Legal Rituals Make and Unmake Persons, which examines traumatic stories of torture and scrutinizes fundamental societal questions.
Kelly Oliver, the Alton Jones Professor of Philosophy, for her book, Animal Lessons: How They Teach Us to Be Human, which Zeppos said serves as the gold standard for continental animal ethics.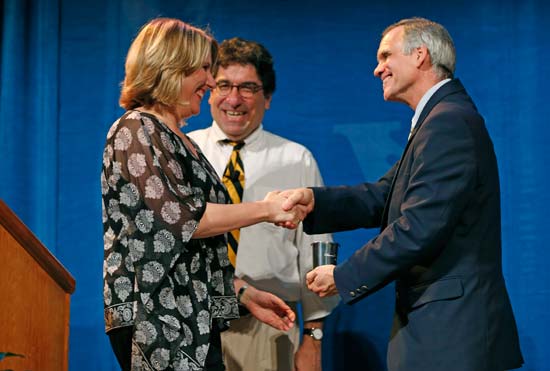 Holly Tucker, professor of French and Italian, for her book, Blood Work: A Tale of Murder and Medicine in the Scientific Revolution, which sheds new light on the infancy of blood transfusions.
Darryl Bornhop, professor of chemistry, for his groundbreaking research in the development of a free-solution and label-free technique to identify molecular interactions.
William Cooper, professor and vice chair, Department of Pediatrics; professor, Department of Preventive Medicine;  and director, Vanderbilt Master's of Public Health program, for his important contributions to the health and welfare of children.
The Chancellor's Award for Research carries a stipend of $1,000 and an engraved pewter julep cup.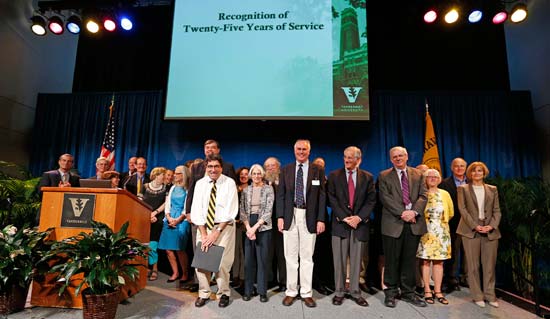 Also at the Fall Faculty Assembly, a total of 35 25-year chairs were recognized, including Zeppos himself, who was surprised by his colleagues with the honor. The following will receive commemorative chairs:
Blair School of Music
Amy R. Dorfman
John Kochanowski
College of Arts and Science:
Idit Dobbs-Weinstein
William R. Fowler Jr.
Carl H. Johnson
Cathy L. Jrade
Konstantin V. Kustanovich
Cecelia Tichi
School of Engineering:
Mark D. Abkowitz
Bharat L. Bhuva
Douglas H. Fisher
Robert L. Galloway Jr.
Todd D. Giorgio
Lloyd W. Massengill
John R. Veillette
Robert A. Weller
D. Mitchell Wilkes
James E. Wittig
School of Medicine:
Raymond F. Burk
Brian W. Christman
Jan Stallings-DeLozier
Maralie G. Exton
Agnes B. Fogo
Lawrence S. Gaines
Vickie L. Hannig
David E. Hansen
Kristina E. Hill
James A. Johns
Douglas S. Kernodle
Marvin W. Kronenberg
Mark A. Magnuson
Bonnie M. Miller
Louise A. Rollins-Smith
Herbert S. Schwartz
Anne Marie Tharpe
Nicholas S. Zeppos, Chancellor