Media Inquiries
Latest Stories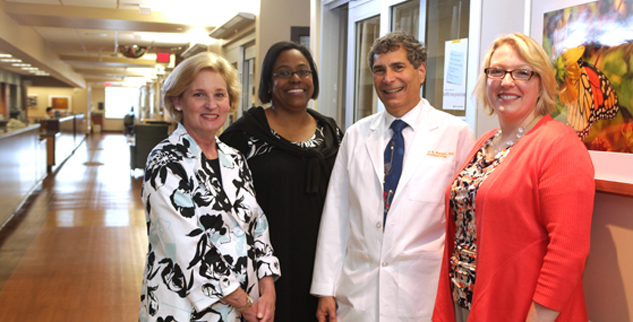 Patients and their families will have a more active role and voice in research designed to improve the quality and safety of patient care, thanks to a federal grant received by Vanderbilt University Medical Center researchers.
VUMC investigators have been awarded a two-year, $750,000 grant from the Patient Centered Outcomes Research Institute (PCORI), one of the first grants awarded by the nonprofit institute established by the Patient Protection and Affordable Care Act of 2010 and the only such grant awarded in Tennessee. The PCORI's mission is to help patients, providers and other health care stakeholders make informed care decisions by producing and promoting information resulting from research guided by patients, caregivers and the broader health care community.
The Vanderbilt research will begin this summer and will track both patients'/patient families' and clinicians' reports of "non-routine" events in four different clinical areas: elective pediatric cardiac surgery, outpatient pediatric oncology (chemotherapy administration), adult day surgery, and adult patients with acute coronary syndrome who are undergoing cardiac catheterization. A non-routine event is defined as any event that deviates from optimal or expected care for a specific patient in a specific clinical situation. A multidisciplinary team of nearly 30 Vanderbilt faculty/physicians and staff, including nurses, surgeons, anesthesiologists, oncologists, cardiologists, pediatricians, engineers, psychologists, anthropologists, statisticians and informatics personnel, will be working together on the project. Select patients and patient family members who are members of Vanderbilt's Patient-Family Advisory Council also will be part of the research team.
"I'm excited that Vanderbilt received one of these highly competitive grants," said U.S. Representative Jim Cooper (D-Tenn.), a strong supporter of the mission of the PCORI. "This important research, done right here in Nashville, will help improve health care delivery and outcomes for patients and their families all over the country."
Matthew Weinger, professor of anesthesiology, biomedical informatics, and medical education; and director of the Center for Research and Innovation in Systems Safety (CRISS), is the study's principal investigator. Weinger and his staff have already developed a standardized process for capturing reports of non-routine events from clinicians, and the PCORI-funded study will build on this knowledge to also capture and understand what patients and their families consider non-routine events.
Non-routine events in clinical settings have been shown to occur frequently and are typically due to multiple factors. In a previous study of 910 elective surgical cases representing a cross-section of anesthesia techniques, surgical procedures, and patient complexity, 39 percent of cases contained at least one non-routine event, and of those cases, 42 percent included more than one non-routine event. In another study, 107 intensive care unit nurses reported medication-related non-routine events (incorrect medication or dosage) in 31 of 153 four-hour observation periods in three different hospitals.
"This project is important because we will be able to determine what aspects of their interaction with the health care system patients and families feel reflect lower quality of care and safety," said Weinger, who is also the Norman Ty Smith Chair in Patient Safety & Medical Simulation. "I believe we will also show that patients and their families will provide important new information about ways to change how we deliver care so that it is safer and better meets their needs. A unique aspect of this research will be the involvement of patients in designing the studies and analyzing the results," he said.
Only 50 pilot projects out of more than 1,000 applications were selected to receive funding for up to two years. Awards approved include those for projects designed to develop a range of tools and techniques aimed at improving patient-centered care and decision-making; create new patient-centered care measures; and improve delivery of patient-centered counseling in health care settings.
Contact: Jill Clendening, (615) 322-4841; (615) 513-8271
jill.clendening@vanderbilt.edu