Media Inquiries
Latest Stories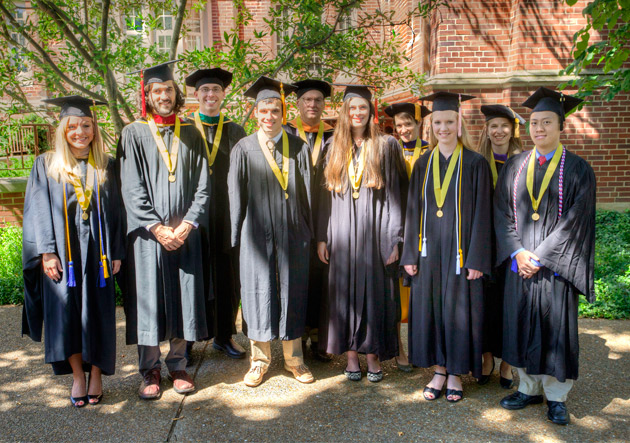 Top scholars from Vanderbilt University's undergraduate and professional schools are being honored with Founder's Medals during Commencement on Friday, May 11.
Since 1877, a gold medal has been awarded to the student graduating at the top of his or her class from each of Vanderbilt's schools. These awards are called "Founder's Medals" in honor of University founder Cornelius Vanderbilt, who made a specific contribution to endow the awards in their first year.
Chancellor Nicholas S. Zeppos presented the Founder's Medals to the following students:
Caroline Marie Hart, from Saint Peters, Mo., Founder's Medalist for the Blair School of Music, is graduating with a bachelor of music in violin performance. Hart was awarded the David Rabin Prize, the Jean Keller Heard Prize, the Margaret Branscomb Prize, and the Ada Bell Stapleton/Blanche Henry Weaver Scholarship. She was concertmaster of the Vanderbilt Orchestra and soloist with the Tchaikovsky Concerto, as well as substitute violinist with the Nashville Symphony. She presented four solo recitals and, as a member of the Ars Nova Quartet, performed in New York and Europe. Winner of the Music Teacher's National Association State Young Artist Competition, she was also selected to attend an exchange program at the Royal Academy of Music in London. Hart played in master classes offered by the Concertmasters of the Cleveland and Pittsburgh Symphonies, as well as members of the Emerson, Juilliard and Takacs Quartets. She will return to the Aspen Music Festival this summer on a fellowship and attend the University of Michigan in the fall.
Tim Xu, Vienna, Va., from Founder's Medalist for the College of Arts and Science, is graduating with a bachelor of arts. A recipient of the Harold Stirling Vanderbilt Honor Scholarship, Xu came to Vanderbilt determined to weave together his two compelling interests in modern European studies and neuroscience. He conducted honors research and studied European politics, history and literature at Vanderbilt and in France, culminating in his honors thesis examining 19th-century European politics and its relation to French psychiatric commitment laws. He served as editor in chief of the Journal of Young Investigators and the interdisciplinary Vanderbilt Undergraduate Research Journal. Among his many honors, Xu was a Barry M. Goldwater Scholar in 2011 and was inducted into Phi Beta Kappa in his junior year. He plans a career in academic medicine.
Kyle Brent Thompson Lambelet, from Wichita, Kan., Founder's Medalist for the Divinity School, is graduating with a master of theological studies. Lambelet spent four years as a community organizer and served as a volunteer in metropolitan Atlanta for the Open Door Community, a residential community in the Catholic Worker tradition that advocates on behalf of the oppressed, homeless and prisoners. Upon entering the Divinity School, he was awarded a Carpenter Scholarship, a full-tuition award for educating the next generation of theologians. Lambelet has served as a leader in the Economic Empowerment Coalition, a student organization that educates and advocates for workers' rights and economic justice at Vanderbilt and in Middle Tennessee. He also is a member of Organized and United for Respect at Vanderbilt (OUR Vanderbilt), a community union for promoting economic justice for university employees. This fall, Lambelet will pursue doctoral studies in moral theology and Christian ethics at the University of Notre Dame, as well as international peace studies at the Kroc Institute.
Kathryn Elizabeth Maxwell, from Saltillo, Miss., Founder's Medalist for the School of Engineering, is graduating with a bachelor of engineering in chemical and biomolecular engineering. A recipient of the A. Max and Susan Souby Honor Scholarship, Maxwell worked with chemical engineering professor Kane Jennings for the research component of her honors degree. She studied the synthesis of thin polymer films, including those for superhydrophobic applications. Last summer, she attended an international scientific conference on nanotechnology in Portland, Ore., and heard about current research initiatives from around the world. That experience inspired her to pursue a career in research. She has served as co-president of engineering honor society Tau Beta Pi, vice president of the student chapter of the American Institute of Chemical Engineers, secretary of Sigma Phi Lambda and a volunteer at a local elementary school. This fall, Maxwell will attend the Massachusetts Institute of Technology to pursue a Ph.D. in chemical engineering.
Elizabeth Reeves Covington, from Houston, Texas, Founder's Medalist for the Graduate School, is graduating with a doctor of philosophy. Covington's multidisciplinary background in science and the humanities inspired her to write her dissertation on the influence of late-19th- and early 20th-century experimental psychological theories of memory on early 20th-century British literature. Covington was the Elizabeth E. Fleming dissertation fellow at the Robert Penn Warren Center for the Humanities, where she was also one of the inaugural fellows at the Center for the Study of Religion and Culture. She served as president of the English Graduate Student Association. She received the English department's Duncan Award for Overall Achievement in the Graduate Career and Young Award for Excellence in Graduate Teaching. She teaches gifted high school students at the Vanderbilt Summer Academy. This fall, Covington will be a lecturer in the English department at Vanderbilt. She plans to pursue a tenure-track job as a professor of English and ready her work on literature and memory for publication as a book.
Karen Usselman Lindell, from Atlanta, Ga., Founder's Medalist for the Law School, is graduating with a doctor of jurisprudence. Lindell has received numerous academic honors, including the Robert F. Jackson Memorial Prize, awarded to the member of the second-year class who has maintained the highest scholastic average during the first two years; the Bennett Douglas Bell Award for the highest conception of ethics in the profession; the Stanley D. Rose Memorial Book Award for the best legal writing in the field of jurisprudence or legal history; the Law Review Editor's Award, awarded to a third-year editorial board member who has made the most significant contribution to the Vanderbilt Law Review; the Lightfoot, Franklin & White Best Oralist award, awarded for Moot Court; Dean's List for all semesters; and Scholastic Excellence awards for her course work. She is a John Wade scholar. After Commencement, Lindell will clerk for the Honorable Kent Jordan, of the U.S. Court of Appeals for the 3rd Circuit, in Wilmington, Del. Following the clerkship year, she will be an associate with Ropes & Gray, in Boston, Mass.
Daniel Mark Koehler, from Pickerington, Ohio, Founder's Medalist for the School of Medicine, is graduating with a doctor of medicine. While at Vanderbilt, Koehler served for four consecutive years on the School of Medicine Honor Council, striving to educate students about ethical documentation practices in the hospital in order to protect the integrity of the profession. He co-founded a local organization that provides specially adapted tricycles for children with developmental and neuromuscular disabilities and was selected as a junior year inductee into the Alpha Omega Alpha Medical Honor Society. He presented research on the role of venous thromboembolic prophylaxis in the setting of traumatic brain injury at multiple national meetings. Koehler will continue his training at the University of Iowa in the orthopedic surgery residency program. After residency, he plans to complete a fellowship in hand surgery and enter academic medicine where he can continue to provide patient care, conduct research and educate new student doctors.
James Clifton Roberson III, from Portland, Maine, Founder's Medalist for the School of Nursing, is graduating with a doctor of nursing practice. Roberson worked extensively with Doctors Without Borders in Haiti as a certified nurse anesthetist and mentored national anesthesia and nursing staff in providing safe anesthesia services. He has given scholarly presentations about nurse anesthetists in global humanitarian crises. He has volunteered with Health Volunteers overseas, International Medical Corps, Surgical Missions International, and Kids First, a Vanderbilt-based pediatric orthopedic surgery medical mission group, in Mexico, the Sudan, Palestine, Vietnam and Bhutan. He has served with the WHO Global Initiative for Emergency and Essential Surgery Training and Education Committee and Health Volunteers Overseas Nurse Anesthesia Steering Committee. In 2012, he was elected to the Sigma Theta Tau International Honor Society in Nursing, Iota Chapter. After graduation, Roberson will implement a pilot program for a process he developed to better evaluate crisis points in obstetric anesthesia, join Columbia University's faculty in the Nurse Anesthesia Program and practice as a doctoral-prepared CRNA.
Scarlet Amber Jones, from Clarksdale, Miss., Founder's Medalist for the Owen Graduate School of Management, is graduating with a master of business administration. Jones was the recipient of the Henderson and Fitzgerald scholarships and was elected to Beta Gamma Sigma, the business honor society. She served as president of the Christian Business Association and as a member of many organizations including the Owen consulting club, the Marketing Association, the Global Business Association, the Women's Business Association, and 100% Owen – the Owen School's service-learning club. Jones volunteers at Ronald McDonald House, Siloam Family Health Center and TrueWater International, a nonprofit company supplying filters for clean water in the Dominican Republic and Guatemala. Last summer, Jones was an internal consultant and international marketing intern at FedEx. She initiated collaboration among operating companies to create the first global health care tradeshow calendar.
Michael James Beno, from Marietta, Ga., Founder's Medalist for the Peabody College of education and human development, is graduating with a bachelor of science in early childhood education. He has been hailed as a consummate example of a learning teacher, one who is consistently and visibly committed to inquiry, mentorship and community service. Since middle school, he has served as a volunteer mentor after school, on weekends and over the summer for at-risk youths in the community. He also volunteers with the Big Brothers organization and the Susan Gray School, coaches youth soccer, and teaches religious education at the Cathedral of the Incarnation in Nashville. In both academic success and personal integrity, Beno exemplifies the commitment to teaching that is the spirit of Peabody College. After graduation, he will remain in Nashville, where he will be teaching first grade at Glenview Elementary School.