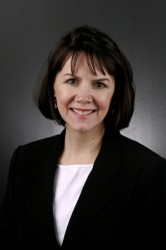 Kimberly Bess, assistant professor of human and organizational development, is the recipient of a 2012 Harold Love Outstanding Community Involvement Award.
Bess was honored for her pro bono research with the Martha O'Bryan Center and Nashville Promise Neighborhood.
Bess began her involvement with Nashville's Martha O'Bryan Center, which helps families living in poverty find education and employment opportunities, in 2006. As the outside evaluator for their "Tied Together" program, a parent education initiative, Bess and her students documented significant gains made by participants in knowledge related to child development, positive parenting practices and health and safety.
In 2010, Bess was invited to join the advisory committee of the then newly formed Nashville Promise Neighborhood, which seeks to connect students, their parents and schools with social services in their neighborhoods. As co-chair of the data and research committee, Bess led a team from Vanderbilt to provide research support for the development of a planning grant for the U.S. Department of Education, which was ultimately awarded to the Martha O'Bryan Center in 2011. The Nashville site was one of only 20 organizations selected nationwide for this federal funding.
"Many community organizations do not have the resources or expertise to evaluate or document their activities," Bess said. "More and more, this [research] is becoming a requirement for funding for programs and initiatives. As a researcher, I can help them do this."
Bess received the Harold Love Outstanding Community Involvement Award and a $1,000 cash prize at a ceremony April 26 at the Tennessee Higher Education Commission headquarters.
The Tennessee General Assembly created community service recognition programs for higher education students, faculty and staff in 1991. In 1997, the awards were named for the late Rep. Harold Love Sr., who was instrumental in passing the enabling legislation.
A taskforce of institutional and board representatives from across the state reviews each nomination to select five students and five faculty or staff recipients annually.