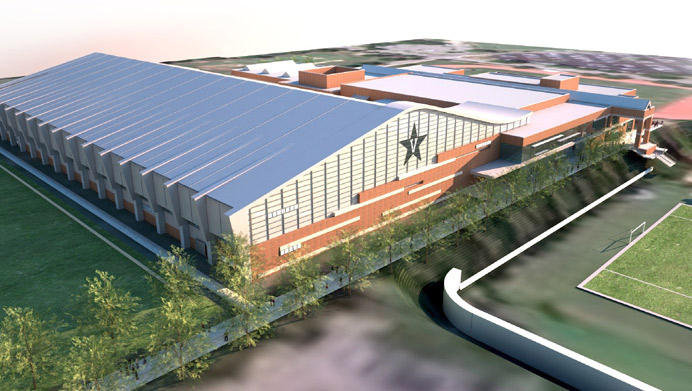 Vanderbilt University will move forward with a construction project that re-imagines sports and fitness at the university following the Board of Trust's approval Friday, April 20, of the Vanderbilt recreation center and multipurpose facility.
Construction will involve enhancing the existing Student Recreation Center so that it can serve the entire Vanderbilt community as well as building a multipurpose facility, which will include a 120-yard long indoor practice field, surrounded by a 300-meter indoor track.
The project, which is being funded by a combination of philanthropy and university investment, moves toward the trend on many college campuses of combined recreation facilities that serve students, faculty and staff. It is expected to be completed no later than summer 2014.
"We have known for a number of years that the current Rec Center, which was built in the late 1980s, needed to be expanded and modernized, based on surveys we've done of its users," said David Williams, vice chancellor for university affairs and athletics. "We see this project as an opportunity to offer our faculty and staff larger and additional exercise facilities, our students enhanced wellness programs, and our varsity, club and intramural teams increased indoor practice and playing space."
The indoor practice field will be available for varsity teams, including football, soccer and lacrosse, as well as intramural and club sports teams. The indoor track will also be open for use by the university's athletic teams and students, faculty and staff.
Upgrades to the recreation center include expanding weight training, multi-purpose spaces, and cardiovascular and fitness areas, as well as the addition of a four-lane bowling alley that will both support the university's varsity bowling team and provide a new recreational activity.
The current Student Recreation Center is located between 25th Avenue South and Natchez Trace. The building backs up to Children's Way.
The university's faculty and staff wellness program, Health Plus, will be relocated to the expanded recreation center. Health Plus is currently located on the top floor of the Kensington Garage on 25th Avenue next to Memorial Gym.
"We will have workout spaces and wellness programs that will fit the particular preferences of our students and the needs of our faculty and staff," said Jerry Fife, vice chancellor for administration.  "We have faculty, staff and some students who may want more guidance when using exercise equipment. For them, we will have a workout room with full-time, trained staff.
"The Health Plus staff that now offers a full suite of wellness programs, including fitness, nutrition, stress-reduction classes, will soon be available to our students as well."
In addition, employees will have access to the Student Recreation Center's swimming pool, larger locker rooms and expanded hours.
Currently, Student Recreation Center and Health Plus staff are working together to determine how to best meet the needs of the Vanderbilt community at the center.
The multipurpose facility is expected to have some impact on the local community as well as it will increase the capacity for some of Vanderbilt's popular summer camps for children used by the Vanderbilt and Nashville communities. There will also be limited rental opportunities for the Nashville community, such as the hosting of major indoor high school track meets.