Teach Twice shares stories from other cultures to create opportunities for change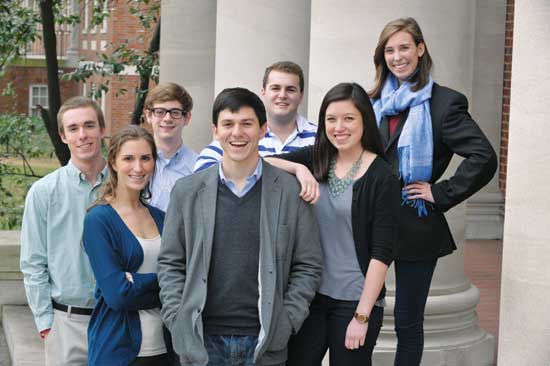 What do those in developing countries – where poverty is widespread and material possessions few – inherently have that is of value to the rest of the world? How can it be used to improve access to education, and ultimately, lead to a better life?
Those are the questions a group of Vanderbilt students set out to explore a year ago when they launched Teach Twice, a social enterprise in which stories from one culture are shared with children in another by way of picture books. In return, the community that produces the story benefits from its sale. Or, to borrow from the Teach Twice mantra, "One book enhances the education of two communities that are worlds apart, yet connected through a desire to learn from each other."
On its surface, Teach Twice is selling children's books – but the real product is the uniquely rich culture that underlies each story, according to Trevor Burbank, Teach Twice co-founder and CEO. The Peabody College senior developed the idea for Teach Twice with Vanderbilt student Jason Wen, whom he met during an Alternative Spring Break trip freshman year. Burbank and Wen found that they shared a passion for alleviating poverty and other social problems. Both also had been inspired by their travels to developing nations.
"We both noticed how the people who hosted us in these countries didn't have many material things, but they did have this incredible joy about who they were," said Burbank, who has done service work in Uganda and Ecuador, among other places. "[rquote]We thought, what if we use the greatest asset that everybody has – their identity within a community, their story – and turn that into a product?"[/rquote]
Burbank first put the idea on paper for a class taught by Human and Organizational Development professor Vicki Davis. He asked Scott Church, now a Peabody senior, to partner with him on the assignment, which included putting their business plan into action.
Based on the strength of that plan, Teach Twice placed third in a Vanderbilt business plan competition and won a semifinalist grant in the Dell Social Innovation Challenge. Other startup funding came from the graduate student group 100% Owen, as well as a successful campaign through Kickstarter, an online fundraising platform in which members of the public make individual donations. Teach Twice exceeded its goal of raising $7,500 through Kickstarter in less than two months' time.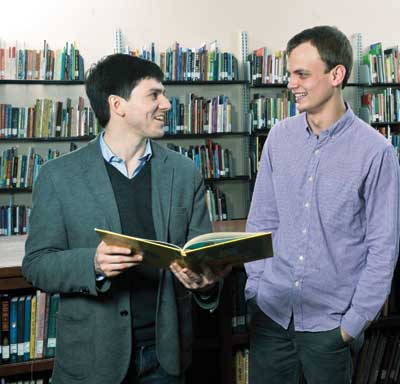 Burbank set about building the Teach Twice team, inviting other Vanderbilt students to join. He reached out not necessarily to friends, but to classmates and acquaintances from across campus that he felt would contribute something valuable to the effort.
"Working with someone on a project like this is completely different than working with them in the classroom," said Church, who is Teach Twice's director of technologies. "I've been so impressed with my fellow students' ideas, resourcefulness and vision in making this project happen."
Finding their first international partner was a bit of chance. As a high school student, Burbank traveled to Uganda for a mission trip with his church. There he befriended Paul Kabanda, a native Ugandan who enthusiastically welcomed him.
Years later the two reconnected through Facebook, and Burbank offered to host Kabanda in Nashville during his first visit to the United States last winter. They shared meals and attended campus events, including a lecture by Jessica Jackley, co-founder of Kiva.org, the peer-to-peer microfinance website. It turned out that Kabanda, too, shared a keen interest in social change. Burbank filled him in on Teach Twice. "We decided that Paul coming on board would bring a lot to the table," Burbank said.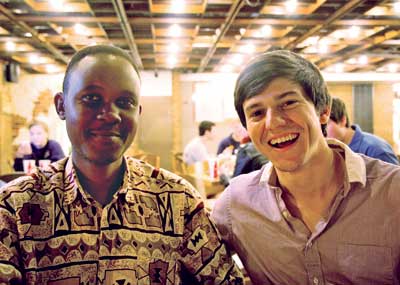 Kabanda, a health and social services coordinator for the Anglican Church in Uganda, became Teach Twice's "man on the ground" in the country. He approached the Ugandan Children's Writers and Illustrators Association on behalf of the group to find an author and illustrator for the first Teach Twice story.
The students soon learned that bringing a book to market is no small task. With Kabanda acting as liaison to the creative team in Africa, the Teach Twice members meticulously edited and shaped the book through several drafts. They delved into contract and copyright law with help from lawyers at the Arts and Business Council of Greater Nashville. They educated themselves about the publishing industry, developed a website and blog, and utilized social media for fundraising and marketing campaigns.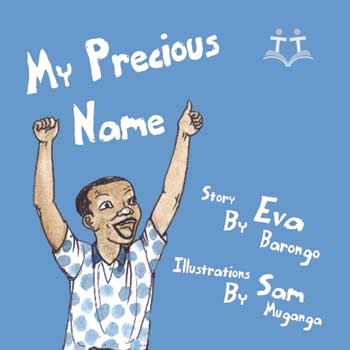 The theme of the first book, My Precious Name, is the Ugandan tradition of giving a child an empako, or praise name, shortly after birth in addition to a personal name. Words in the Kinyoro language are sprinkled throughout the text. "As much as possible, we want these stories to be created in the country and to represent and honor the culture," Burbank said.
Using a portion of the group's startup funds, My Precious Name will be published in the United States March 22 and sold on the Teach Twice website, by the nonprofit organization First Book and at several stores in the Nashville area. The Teach Twice team has developed a companion curriculum to supplement the book's use in the classroom that will be available on the group's website. Plans call for proceeds from the book's sale to build a secondary school in the Ugandan community of Nakikungube on land secured by Kabanda and using local labor.
Teach Twice's educational mission calls for profits to be cycled back into communities to build schools, to fund scholarships or other education-related expenses, to encourage adult education initiatives and as donations of the Teach Twice books, themselves.
The organization already has its next titles lined up. Ann Neely, associate professor of the practice of education and a member of the Teach Twice advisory board, recommended several books she discovered in her travels to South Africa, and the group scooped up the international publishing rights. A handsomely illustrated book called Tall Enough will be translated from the isiXhosa language, while The Children's Mandela is a full-length coffee table book about South African children's reflections on the historic leader. Teach Twice will publish these works in the United States, bringing them to an entirely new audience.
Teach Twice wants its international partners to feel a true ownership of the materials being produced and the progress being made in their communities as a result. But the members also feel a responsibility to address educational needs closer to home.
To that end, they started a tutoring and mentoring initiative at Nashville's Glencliff High School last fall. Called Teach One, the initiative serves mostly students from immigrant families. They get one-on-one homework help and the opportunity to practice their English language skills, which has resulted in better grades and more confidence in the classroom, Burbank said. Teach One also offers an English as a Second Language course and provides child care one night a week so that adult learners can take classes at the Nashville International Center for Empowerment.
"The name Teach One comes from the African proverb, 'Each one, teach one,'" Burbank explained. "It's the idea that if you have been blessed with an education, it's your responsibility to pass it on to at least one more person. That speaks to the core values of what we're trying to do.
"[rquote]I think all of us involved realize how fortunate we are to attend Vanderbilt – it's a top 20 school," he said. "We feel a responsibility to step outside the bubble a bit and reinvest what we've been blessed with."[/rquote]
This type of thinking is more and more common among today's college students, said Teach Twice adviser Jim Schorr, a nationally recognized social enterprise expert.
"Young people today are increasingly interested in careers that are not just about making a living, but about making a difference in the world. Waiting until the weekend or retirement to 'give back' doesn't make much sense to them," said Schorr, an adjunct professor of management at Vanderbilt with appointments at Owen, Peabody and the College of Arts and Science. "As social enterprises such as TOMS shoes and Kiva.org have become increasingly visible, students are seeing and responding to social enterprise as an opportunity to integrate work and service in ways that can be fulfilling on multiple levels."
In fact, with many of Teach Twice's members graduating this spring, Burbank plans to continue the venture full-time, with others participating from wherever they land post-Commencement. Technologies such as email and Skype will make that possible, just as they made it possible for the students to launch a global business out of a dorm room.
Schorr believes they have a solid shot at success. "Teach Twice's model provides the opportunity for people in the developed world to support, engage with and learn from people and cultures in the developing world, something that's of great importance in our increasingly global society," he said. "Teach Twice's blend of cultural education, philanthropy and commerce is unique and has the potential to make an impact in the lives not just of children in poorer countries, but children and adults in the U.S. and wealthier countries as well."
The international business community is already taking notice. Teach Twice was one of the few nonprofits invited to participate in the prestigious Kairos 50, a gathering of the world's most innovative ventures started by university students. At the event, held at the New York Stock Exchange in early February, Teach Twice made contacts for possible books from South Korea and Indonesia and garnered interest from the U.S. Department of Education and the State Department.
"We want Teach Twice to be a sustainable business and grow it as much as we can," said Burbank, who noted that success will be measured by more than just sales. "There are so many other things that you can win at – like getting the books into more hands, and helping as many communities as possible."