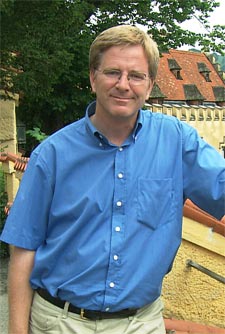 Rick Steves, author of more than 50 European travel guidebooks and host of the public television series Rick Steves' Europe, will discuss how thoughtful travel expands our world view and shapes how we address the challenges confronting our nation politically Monday, March 19, at 7 p.m. in the ballroom of Vanderbilt University's Student Life Center.
Steves' talk will follow the theme of his latest book, Travel as a Political Act, in which he shares a series of field reports from Europe, Central America, Asia and the Middle East to show how his travels have shaped his politics and broadened his perspective.
The event is free and open to the public; however, tickets are required. Free tickets are available beginning Thursday, March 1, at the box office at Sarratt Student Center. Steves' book, Travel as a Political Act, will be available for sale at the event. It will also be available at the university's bookstore – Barnes & Noble at Vanderbilt. Steves will be on hand after his talk for questions and autographs.
Vanderbilt's Office of the Dean of Students and International Student and Scholar Services are sponsors of the event.
Steves has spent four months a year overseas for the last 30 years and believes that travel helps us "challenge truths we were raised to think were self-evident and God-given." In the book, he shares how the other 96 percent of humanity sees our nation and explores how his social activism has grown naturally out of his travel experiences.
He grew up in Edmonds, Wash., and studied at the University of Washington where he earned degrees in business administration and European history. But much of his education has come from being on the road. Since 1973 he has spent 120 days a year in Europe, and spending a third of his adult life living out of a suitcase in Europe has shaped his thinking. Today he employs 72 people at his Edmonds-based company, Europe Through the Back Door, where he produces more than 50 books on European travel, the popular Rick Steves' Europe public television series, a weekly hour-long public radio show which airs all over the United States and a weekly column syndicated by the Chicago Tribune.
For questions and more information about the event at Vanderbilt, contact Heather Jones.