Media Inquiries
Latest Stories
Written by Jill Clendening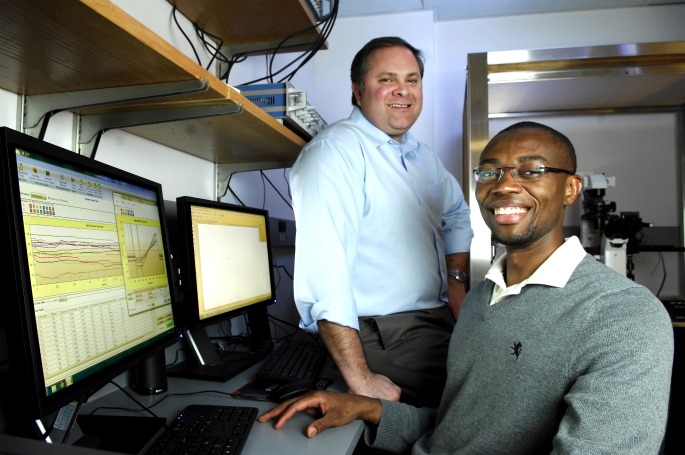 Rene Raphemot, a Vanderbilt graduate student in Pharmacology, remembers shivering in a hospital bed, his 9-year-old body weakened by malaria.
A native of Gabon, Africa, Raphemot knows firsthand how a single mosquito bite can lead to extreme suffering and even death. Today, however, his smile stretches wide as he speaks of his personal efforts to end the scourge.
Raphemot, now 27, and his mentor, Jerod Denton, Ph.D., assistant professor of Anesthesiology and Pharmacology, are conducting research funded by a three-year, $1.4 million grant from the Foundation for the National Institutes of Health (FNIH) to discover chemicals that could lead to novel ways of killing mosquitoes that spread malaria, a disease that claims 1 million lives annually.
Denton is collaborating with Peter Piermarini, Ph.D., assistant professor of Entomology at the Ohio State University (OSU) and Klaus Beyenbach,  Ph.D., professor of Physiology at Cornell University.
Their project is one of four funded in 2011 by the FNIH as part of its "New Insecticides for Malaria Control" program, which is supported by the Bill and Melinda Gates Foundation.
Corey Hopkins, Ph.D., research assistant professor of Pharmacology and Chemistry and associate director of Medicinal Chemistry for the Vanderbilt Center for Neuroscience Drug Discovery, and David Weaver, Ph.D., assistant professor of Pharmacology and director of the Vanderbilt High-Throughput Screening Center, are also collaborating on the project.
The team is looking for small molecules that induce kidney failure in Anopheles gambiae, the mosquito species that carry malaria. The Denton lab focuses on drug discovery for potassium channels, one of the molecular targets in the mosquito research. Beyenbach has studied insect kidney function for more than 30 years, and Piermarini, a former fellow of Beyenbach and principal investigator on the FNIH grant, is conducting related research in his lab at Ohio State.
The recent award has given them the opportunity to combine their expertise to fight malaria, and having Raphemot on board has made the effort that much more rewarding, said Denton.
"For me, personally, one of the most exciting parts of this project is that Rene will be conducting drug discovery for a disease that has a devastating impact in his home country," he said.
Raphemot's family, already proud of the young scholar, was excited to learn he was working on a project to combat malaria.
"[rquote]Before, when they knew I was going to be doing medical research, they kept asking me, 'Why can't you work on a cure for malaria?'" Raphemot said. "Now, I am actually working on something that can benefit them, and they are very happy.[/rquote]"
The principle behind the research is simple – the team hopes to induce kidney failure in mosquitoes, preventing them from eliminating fluids and deadly toxins after a blood meal. When a female mosquito feeds, she takes on her body weight in fluid, but at the same time her body begins a "rapid diuretic response" to eliminate the waste products.
"If we can impair the diuretic response, then the ingested salt and water and nitrogenous waste products of protein metabolism can't be off-loaded as part of their detoxification process," said Denton.
"Kidney failure should also lead to severe abdominal bloating, which would make the mosquito heavier and more susceptible to predators."
Denton said the FNIH funding, Vanderbilt's cooperative research environment and the partnership with leading researchers at other institutions represent the perfect collaboration to test a new way of killing mosquitoes and potentially have a positive impact on a truly devastating disease.