Click arrow above to listen to an InterVU with International Lens co-chair Marci Angevine about the spring 2012 film schedule.
International Lens' diverse line-up is pure gold for Nashville cinephiles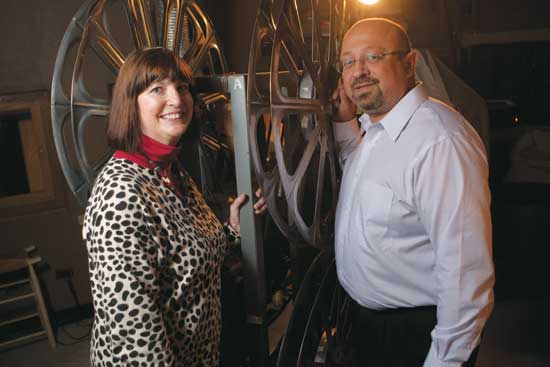 When Sherif Barsoum came to Vanderbilt in 2007 as director of International Student and Scholar Services, he discovered a wonderful campus theater in Sarratt Student Center. But to his surprise and dismay, the theater was dark and empty.
It had not always been so. Sarratt Cinema debuted in 1974 inside the new student center and for decades was the only place in Nashville to see anything other than standard multiplex fare. Each semester, the student-run Sarratt Film Committee would screen films seven days a week, including blockbusters as well as independent and international films. Throughout the 1970s and '80s, Mary Jane Coleman's Sinking Creek Film Festival, now known as the Nashville Film Festival, was held at Sarratt.
"Sarratt Cinema really had a strong reputation," recalled JoEl Levy Logiudice, director of Vanderbilt's Office of Creative Arts and Engagement. "At one time, it was the only art house cinema in Nashville that was showing things that you couldn't see anywhere else in the city. Then in 2005, it just went dark."
When Barsoum shared his unhappy observations about Sarratt Cinema with his new colleague Logiudice, an exciting idea took shape.
"I said to JoEl, 'Why don't we do a week of international films?' And I asked Dean of Students Mark Bandas for some funding," Barsoum said. "Then a couple of weeks later, Dean Bandas suggested we do a whole semester of international film in the spring, and I asked JoEl for help because she has the expertise."
Thus was born International Lens, Vanderbilt's international film series. Now in its ninth season, the series screens 25 or so international films each fall and spring semester at Sarratt Cinema for Vanderbilt and members of the Nashville community. All films are shown free of charge.
"When we in the Office of the Dean of Students decided to create this renaissance for Sarratt Cinema, we were very aware of trying to find a niche within the Nashville film community," Logiudice said. "We recognized that Belcourt Theatre was bringing in a lot of strong documentaries, independent films and seldom-shown feature films. So we decided our focus would be the international film."
"Another reason we really wanted to have something like this on campus," said Barsoum, "is because Vanderbilt has 1,300 international students from more than 90 countries, so it's really nice for them to come to Sarratt and attend a movie in their native language. That helps make Vanderbilt feel like home for them.
"[rquote]One of the goals of International Lens is to expose people to other cultures, other ways of thinking, and other ideas; to start the conversation and begin to gain an understanding of each other," he said.[/rquote]
The emphasis on conversation is a hallmark of International Lens. "It becomes not just, 'Oh, we want to see a movie,'" Barsoum said. "We want to understand the movie and have the real experience."
The model for the series is to select films with a global perspective that in most cases have not been shown in Nashville. Faculty members introduce the films and moderate a discussion afterward.
"On any given evening at an International Lens film, you may see some undergraduates, some graduate students, faculty and staff, and a few community members," Barsoum said. "That interaction and discussion and just the presence of those different types of people on campus leads to a very rich intellectual conversation and an opportunity for learning outside the classroom that students are often eager for."
The films, the organizers say, can be challenging, even provocative. "We don't shy away from difficult subjects and controversial films. Sometimes you need that conversation after the film to get your thoughts together," Barsoum said.
The International Lens advisory board – composed of student, faculty and staff cinephiles from across campus – reviews suggestions submitted by a cross-section of departments, programs, centers and student organizations. Three hundred calls for proposals are sent out, and care is taken to present a slate of films that represent a wide range of countries, languages and points of view as well as a nice balance of independent films versus documentaries. Whenever possible, films are shown in 35mm format to present the true cinematic experience in all its richness.
"Some films are sell-outs, with 250 people and standing room only," Logiudice said.
"And there are some films that you have 17 people there," added Barsoum. "And we're OK with providing that film for the 17 people who really wanted to see it."
This model is not one that a for-profit theater could sustain. International Lens is able to offer free admission and to happily screen movies for smaller audiences because of the generous support of the university. Funding comes not only from the dean of student's office, but also from departments who sponsor particular films. Additional funding is provided by Nashville Premiers, a local group that supports both International Lens and The Belcourt. And for the past three years, International Lens has received a Tournées Festival grant from the French American Cultural Exchange, which helps bring contemporary French cinema to American campuses.
With key elements in place – a wonderful facility, supportive administration, passionate faculty and a desire for intellectual conversation to promote understanding of one another and the world – Sarratt Cinema is reclaiming its role as one of the best places in Nashville to have a thought-provoking, mind-expanding film experience.
"The timing was very ripe for bringing the cinema back out of the dark," Logiudice said.
For a schedule of spring 2012 films:
vanderbilt.edu/internationallens
written by Donna B. Smith