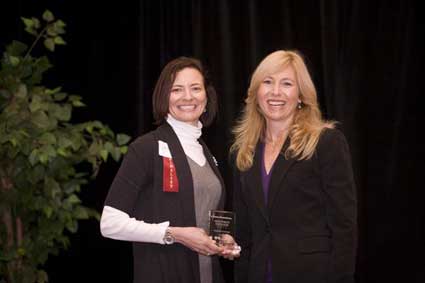 Nashville Business Journal recognized Vanderbilt University as one of the city's healthiest employers at an awards luncheon Dec. 15.
This is the second year for NBJ's Healthiest Employers awards program, which measures and ranks local organizations that are committed to creating a healthy workplace. Vanderbilt won the "large" category ­– 1,000-plus employees – besting Gaylord Entertainment, A. O. Smith and Nissan North America. In 2010, Vanderbilt won the same category.
Some of the programs that contributed to Vanderbilt's win include four programs offered through Faculty/Staff Health and Wellness:
Vanderbilt has a strong commitment to the health of its 22,000-plus employees. Free flu shots are offered seasonally as well as skin cancer screenings and check-up stations to measure weight, blood pressure and body mass index throughout the year. Programs to manage weight, quit smoking and reduce stress are regularly offered and promoted. A generous health and dental program for Vanderbilt employees and their families is offered.
Additionally, Vanderbilt's 330-acre main campus, a designated national arboretum, is marked with walking trails for lunchtime exercise, and campus dining facilities include gluten-free, vegan, kosher, vegetarian and diabetic-friendly offerings.
To learn more about the winners and finalists of the 2011 Nashville's Healthiest Employers awards, visit the Nashville Business Journal online.
Contact:
Stacey Kendrick, (615) 322-6689
stacey.kendrick@Vanderbilt.Edu