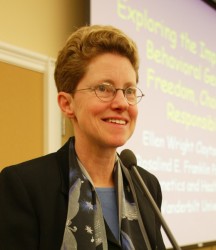 Answering the questions of if, when and how scientists should inform participants in genomic studies about their risk for diseases or conditions is the aim of new research funded with a $5.7 million grant to Ellen Wright Clayton, Craig-Weaver Professor of Pediatrics and director of the Center for Biomedical Ethics and Society at Vanderbilt University, and seven other experts.
"These new research projects will help us understand how people are reacting to real information about their genomes, which is an increasingly pressing issue as more scientists incorporate genome sequencing into their research," said Eric D. Green, director of the National Human Genome Research Institute, which awarded the grants. "[lquote]We're putting the best minds together to try to develop best practices on this issue by establishing a consortium of all the funded researchers.[/lquote]"
The goal of Clayton's project is to identify criteria to guide decisions about returning individual research results to children who participate in genomic research. To do so, she will examine U.S. law and international guidelines about decision-making for and by minors. Then, she will analyze what weight should be given to various benefits potentially associated with returning pediatric research results. These range from immediate benefit to the minor's health or for the minor's reproductive decision-making later in life, to benefits to parents, the minor's siblings or the family as a whole.
Genomic researchers have widely varying opinions on the "return of results" issue. Some believe that they have an ethical or legal obligation to reveal genomic information to study participants – especially if it is medically significant and treatments are available. Others consider sharing such information unethical – particularly if the participant was told he or she would not be re-contacted, if the information relates to an untreatable disorder or if the significance of the information is unclear. There are also regulatory and policy issues related to developing clinical applications that the researchers must consider.
According to NHGRI, the studies they have commissioned will shed light on real-life applications of returning genomic results to study participants.