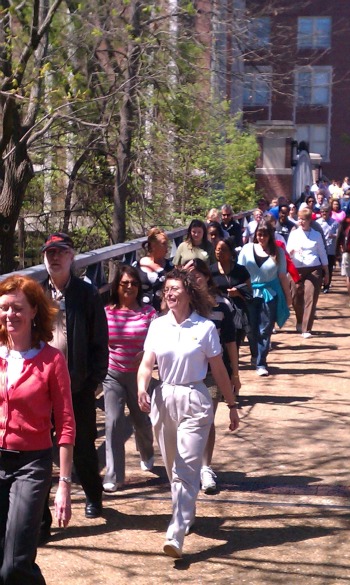 For the fourth consecutive year Vanderbilt has been recognized by the American Heart Association with its Platinum Level Start! Fit-friendly Companies Award.
This award is given to companies that demonstrate progressive leadership toward making health and wellness a priority for their workforce. Vanderbilt will receive recognition in the September issue of Fortune magazine for this accomplishment.
"I want to thank everyone who helped Vanderbilt win the American Heart Association's Platinum Level Award for the fourth straight year. This achievement should serve as further encouragement for the positive advancements we have made, and those efforts we will continue to make, as we work toward improving the health and wellness of our faculty and staff," said C. Wright Pinson, deputy vice chancellor for health affairs and CEO of the Vanderbilt Health System.
Health Plus and Vanderbilt Heart collaborate to provide the Start! program and are encouraging everyone to participate to help reach a goal of 1.5 billion combined steps by December 31. Find an activity you like and track what you do. Any activity you do will be converted to steps. Qualify for a prize for each of the four challenges in 2011. Vanderbilt campus marked walking trails, motivational e-mails and an annual senior leader walk are some of the many activities designed to support faculty and staff in moving more and having fun.