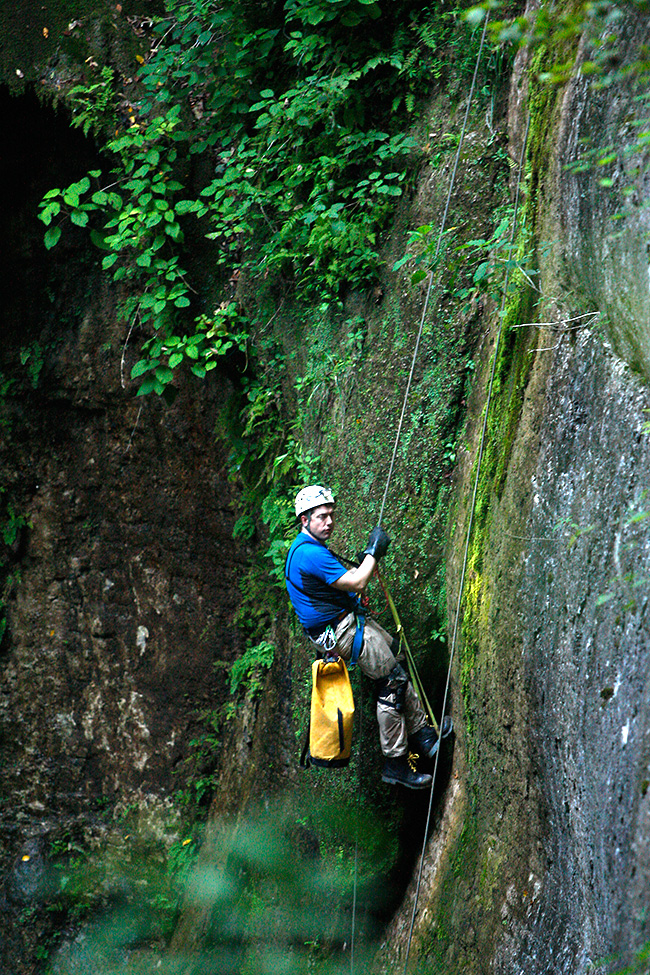 Have you ever had the feeling that events beyond your control are working in your favor? That certainly seems to have been the case in the extraordinary sequence of events that led Vanderbilt chemist Brian Bachmann to establish the first systematic program designed to search for novel drugs among cave microbes.
The first event was having the good fortune of being born into a highly entrepreneurial family.  His father was a chemist who worked on super glues at Loctite where he invented a number of industrial adhesives. But working for a large company wasn't enough for him, so he got an MBA degree at night school, quit his job, moved to a farmhouse in Connecticut, bought a bankrupt company and turned it into a successful family business producing fast-curing adhesives.
The next event was Bachmann's decision to attend Virginia Tech. It was there that he decided on a career in chemistry, rather than pursuing his other interests in philosophy and literature. Equally important, he joined the VPI Cave Club and developed a passion for caving.
The third event was going to work for a small Canadian drug company, Ecopia Biosciences (now Thallion Pharmaceuticals), where he learned about the business of discovering drugs from natural sources. The company had developed a revolutionary genomics-driven platform for natural product discovery that is now driving many natural product discovery efforts globally.
The final event in the chain was his move to Vanderbilt. He decided to seek an academic position so he could pursue his interest in the growing field of synthetic biology, which uses the machinery of biological systems (DNA, RNA, proteins) to produce synthetic compounds and other high value materials.
When he moved to Vanderbilt, Bachmann had no intention of reviving his undergraduate interest in caving or to remain involved in natural products drug discovery. However, the success of the Vanderbilt's Program in Drug Discovery got him thinking about starting a natural products drug discovery program. In addition, Tennessee is prime caving country, which gave him the idea how he could make such a program stand out: Cave microorganisms are a virtually untouched source of novel biological compounds, so he could begin screening them systematically for potential drugs.
When he floated the idea to Vanderbilt colleagues, he got a positive reception. He found collaborators in the chemistry department with the expertise he needed and seed money from the Vanderbilt Institute of Chemical Biology to get the program up and running. With that leg up he and his colleagues have received $1.64 million in federal funding.  In their initial collections, they are finding that about half of the interesting compounds that they are locating are totally new… a normal ratio is closer to 5 percent.
Bachmann has an ambitious goal: not just to discover important new drugs, but also to lift the natural products discovery process out of its old "grind and find" paradigm and make it competitive with the combinatorial chemical synthesis method that has largely displaced it in commercial drug development.
If he succeeds – and it seems likely if events keep breaking his way – then all of us will benefit.
Read more about Bachmann's unique research in "Searching for drugs underground."
The National Institutes of Health has featured his research in an article "Drugs from Deep Down" in their magazine Findings.