Stella Vaughn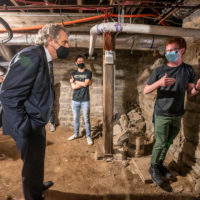 Jan. 29, 2021—A series of trans-institutional courses designed through the Robert Penn Warren Center for the Humanities is using Vanderbilt's campus as a living lab, giving students—future historians, architects, archaeologists, curators and engineers among them—unique hands-on experiences.
---

Nov. 21, 2017—Few people in the university's history have been as loyal to Vanderbilt as long and as selflessly as Stella Scott Vaughn. She grew up on campus and was one of Vanderbilt's earliest woman graduates. She served as the university's first female physical-education instructor and coach, working her first nine years without pay. She also took on the unofficial role as dean of women students.
---

Feb. 29, 2016—Vanderbilt announces nine additions to its Athletic Hall of Fame for 2015, representing the best of Vanderbilt's athletic history.
---