Mr. Commodore Archives
Aug. 30, 2017—When it comes to getting a stellar makeover, Mr. Commodore goes straight to Vanderbilt fashion design professor Alexandra Sargent-Capps.
---
Oct. 16, 2015—In the latest VUCast: Hear from Ebola survivors helping a Vanderbilt researcher fight the deadly virus; see the high-tech way an art exhibit is bringing VU students face to face with people across the world; and find out which country music star shot his latest video with Mr. Commodore! Watch now.
---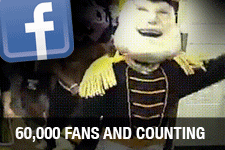 Apr. 12, 2013—Take a look back at this past week with a few Instagrams and Tweets. There's something about springtime that brings out the photographer in all of us. Enjoy!
---