Brian Rini

Nov. 10, 2020—A new study sheds light on how molecular subsets within the tumors of kidney cancer patients determine treatment outcomes and underscores the importance of personalized medicine in making therapy decisions.
---

Jun. 3, 2020—People with cancer sickened by COVID-19 have a crude death rate of 13%, according to the largest series of data released thus far from a multinational perspective. The data on more than 900 patients also revealed cancer-specific factors associated with increased mortality.
---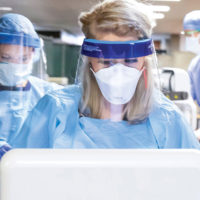 May. 14, 2020—From the front lines of patient care to collaborating with scientists across the globe searching for treatments and vaccines, Vanderbilt University Medical Center and Vanderbilt University researchers have been working for months to combat the COVID-19 pandemic.
---