Media Inquiries
Latest Stories
By Bill Snyder and Kathy Whitney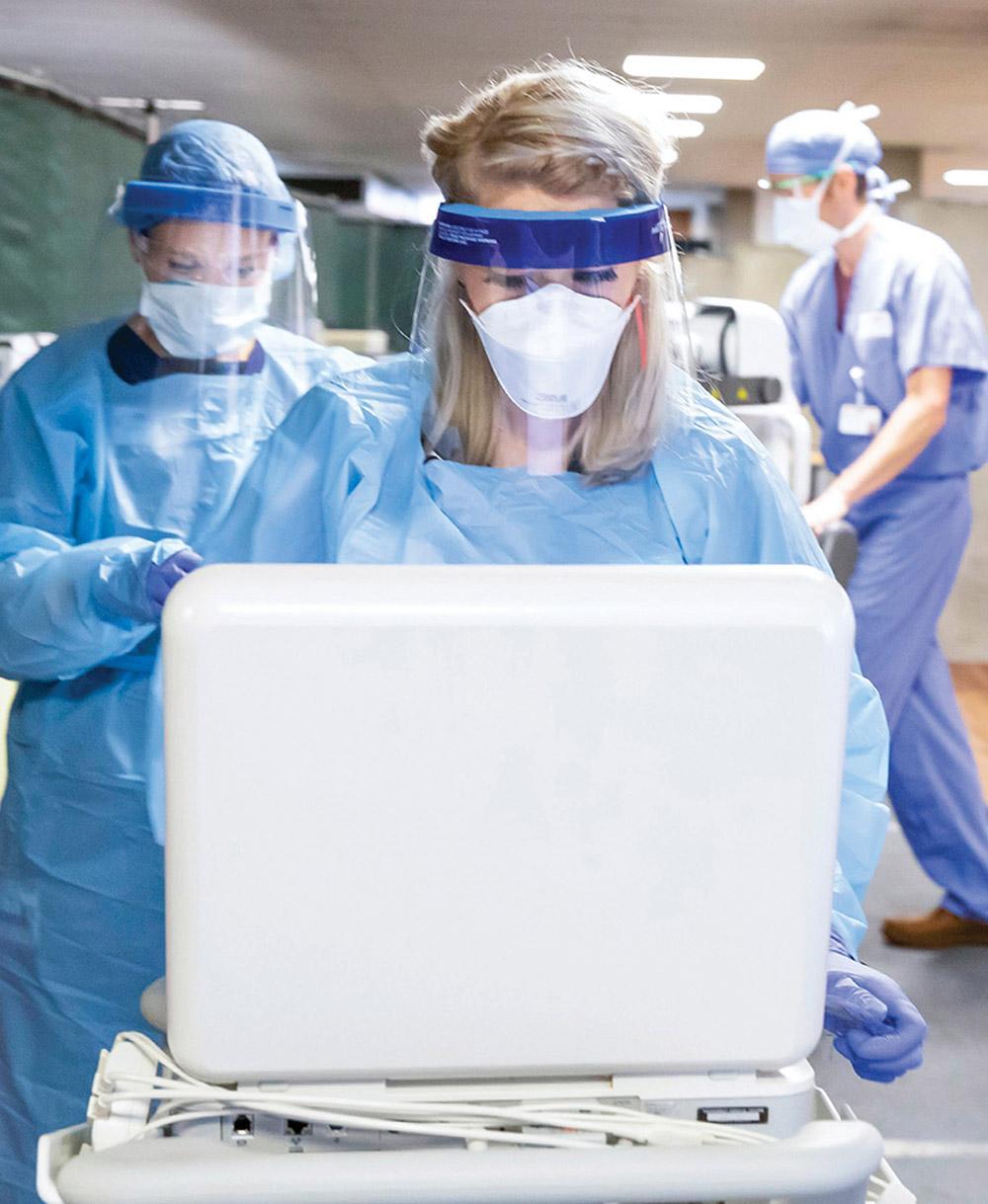 From the front lines of patient care to collaborating with scientists across the globe searching for treatments and vaccines, Vanderbilt University Medical Center and Vanderbilt University researchers have been working for months to combat the COVID-19 pandemic.
"Finding ways to manage and prevent COVID-19 disease is the goal for scientists around the world, and Vanderbilt stands out," Dr. Jeffrey Balser, MD'90, PhD'90, president and CEO of Vanderbilt University Medical Center and dean of the School of Medicine, said in an April message to the Vanderbilt community.
Among the most prominent partnerships, VUMC and the global biopharmaceutical company AstraZeneca have joined forces to identify candidates for antibody-based treatments that could protect people exposed to COVID-19.
The goal is to develop antibodies that could be given to people infected with SARS-CoV-2, the virus that causes COVID-19, to reduce the severity of their illness and speed recovery. The agreement with AstraZeneca allows Vanderbilt to continue working with other partners to develop these antibodies for diagnostic and therapeutic applications.
"AstraZeneca is a great partner for us, since we have ultra-rapid antibody discovery technologies and have already discovered SARS-CoV-2 neutralizing antibodies," says Dr. James Crowe Jr., who directs the Vanderbilt Vaccine Center and is the Ann Scott Carell Professor of Pediatrics and professor of pathology, microbiology and immunology. "AstraZeneca has world-class product development and manufacturing expertise that could, if successful candidates are identified, turn these antibodies into effective biological drugs quickly."
Vanderbilt researchers have developed techniques for rapid identification and cloning of antibodies to fight a wide range of pathogenic viruses, including Ebola, chikungunya, HIV, dengue, norovirus and respiratory syncytial virus (RSV). Some of these pioneering antibody treatments and vaccines have progressed to clinical trials.
For much of March and April, Crowe, along with Robert Carnahan, PhD'03, associate director of the VVC and associate professor of pediatrics, radiology and radiologic sciences, had been working around the clock with an international team of academic, governmental and corporate partners to identify and analyze antibodies to be used against SARS-CoV-2. They have since identified antibodies capable of neutralizing the virus and are rapidly selecting the best candidates for moving forward toward clinical development.
"We aim to accelerate the discovery and development of a safe and effective antibody treatment to prevent COVID-19."
"By partnering with institutes such as Vanderbilt University Medical Center, we aim to accelerate the discovery and development of a safe and effective antibody treatment to prevent COVID-19," says Mene Pangalos, AstraZeneca's executive vice president of biopharmaceuticals research and development.
In addition to the antibody investigations, Vanderbilt researchers are working with other institutions on the development of a potential new antiviral drug to treat COVID-19.
The drug, named EIDD-1931, was developed at the Emory Institute for Drug Development in Atlanta. In November, Dr. Mark Denison—director of VUMC's Division of Infectious Diseases, Edward Claiborne Stahlman Professor of Pediatric Physiology and Medicine, and professor of pathology, microbiology and immunology—along with colleagues at VUMC, reported that EIDD-1931 blocked replication of a broad spectrum of coronaviruses in laboratory tests and prevented these viruses from developing resistance against it.
Andrea Pruijssers, research assistant professor of pediatrics and the lead antiviral scientist in Denison's lab, provided the first evidence of the drug's potent activity against SARS-CoV-2.
The VUMC researchers also contributed to a subsequent animal study conducted at the University of North Carolina at Chapel Hill. That paper, published online April 6 by the journal Science Translational Medicine, includes data from cultured human lung cells infected with SARS-CoV-2, as well as mice infected with the related coronaviruses SARS-CoV and MERS-CoV.
The study found that EIDD-2801, a form of EIDD-1931 that can be taken orally, prevented severe lung injury in infected mice. When administered 12 or 24 hours after infection had begun, the drug reduced the degree of lung damage and weight loss in mice.
If clinical studies in humans, expected to begin later this spring, are successful, EIDD-2801 not only could help stop the spread of SARS-CoV-2, but also could control future outbreaks of other emerging coronaviruses, says Denison, an internationally known authority on coronavirus biology.
"We are amazed at the ability of EIDD-1931 and -2801 to inhibit all tested coronaviruses and the potential for oral treatment of COVID-19," Pruijssers says. "This work shows the importance of ongoing National Institutes of Health support for collaborative research to develop antivirals for all pandemic viruses, not just coronaviruses."
Since 2014, Denison and his colleagues also have investigated the antiviral drug remdesivir, a potential COVID-19 treatment now in clinical trials in the United States and China that has received widespread media attention. Pruijssers has demonstrated that remdesivir is effective against SARS-CoV-2.
In addition, Denison's lab will be involved in a phase 1 clinical trial that is testing antibody responses to a potential vaccine against SARS-CoV-2 designed and produced by Massachusetts-based biotechnology firm Moderna Inc.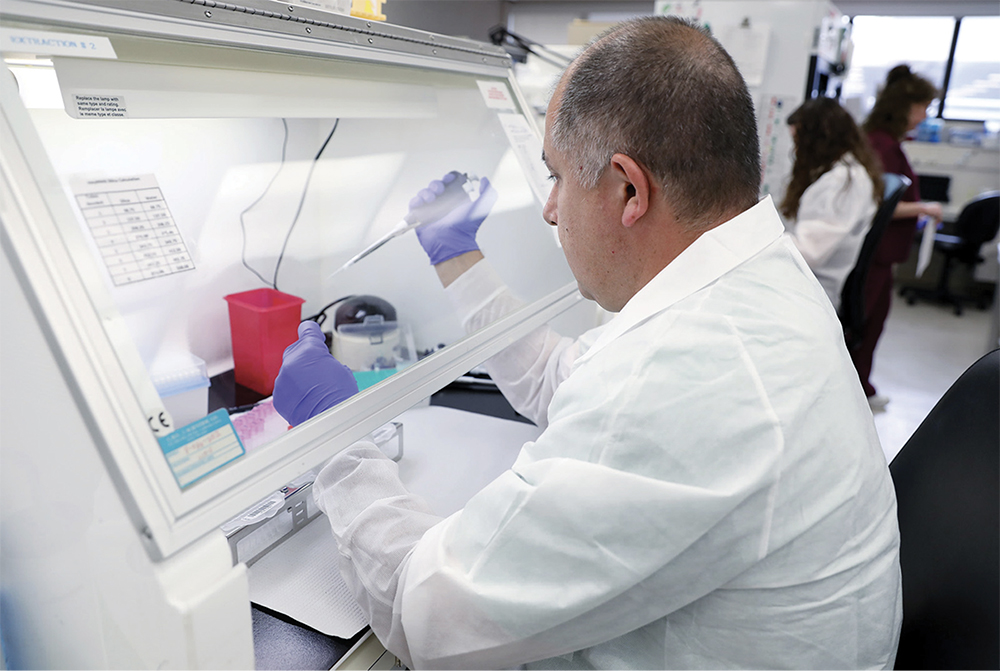 TESTING EFFECTIVENESS OF AN ANTIMALARIAL DRUG
In absence of a drug specifically designed to treat COVID-19, many physicians have turned to hydroxychloroquine, a well-known drug used for malaria and rheumatologic conditions, as a potential treatment. The drug has sparked controversy, however, as it has not been approved by the FDA or other public health officials as a proven treatment for the virus.
As that debate continues, researchers at VUMC are leading two clinical trials to understand if, and to what extent, hydroxychloroquine is indeed safe and effective in treating health care workers and, by extension, hospitalized adults with COVID-19.
The ORCHID trial (Outcomes Related to COVID-19 treated with Hydroxychloroquine among In-patients with symptomatic Disease)—funded by the National Heart, Lung and Blood Institute of the NIH—enrolled its first patient April 2 and eventually will include hundreds of participants.
"Laboratory studies have suggested that hydroxychloroquine may be a useful drug to treat COVID-19," says ORCHID trial lead investigator Dr. Wesley H. Self, MPH'11, associate professor of emergency medicine and an emergency physician at VUMC. "However, we have limited human data to understand if hydroxychloroquine helps patients recover from COVID-19. High quality clinical-trial data from studies like this are urgently needed to understand the safety and effectiveness of this drug in COVID-19."
Complementing ORCHID's goals, the second trial also seeks to shed light on why some people do not exhibit any symptoms or become ill after being infected with the SARS-CoV-2 virus. In addition, researchers hope to learn more about how hydroxychloroquine affects the immune system. Principal investigators of the trial are Justin Balko, associate professor of medicine, pathology, microbiology and immunology; Dr. Ingrid Mayer, MSCI'06, Ingram Professor of Cancer Research and professor of medicine; and Dr. Brian Rini, Ingram Professor of Cancer Research and professor of medicine.
Despite the limited clinical data at this point, hydroxychloroquine has been adopted into treatment guidelines at some hospitals in China and the U.S. because no proven existing medications have been discovered to help prevent patients from getting worse.
Vanderbilt University Medical Center also is playing a key role in a national effort to establish a registry of U.S. health care workers and test whether hydroxychloroquine is protecting them, their patients and their families from COVID-19. The Board of Governors of the nonprofit Patient-Centered Outcomes Research Institute in Washington, D.C., has approved up to $50 million to fund the initiative, known as the Healthcare Worker Exposure Response and Outcomes (HERO) research program, which is being led by the Duke Clinical Research Institute.
Dr. Russell Rothman, Ingram Professor of Integrative and Population Health, professor of medicine, health policy and pediatrics, and senior vice president for population and public health at VUMC, serves as co-chair of the HERO Steering Committee with Dr. Judith Currier, professor of medicine and chief of the Division of Infectious Diseases at UCLA Medical Center, Santa Monica.
Fellow steering committee member Dr. Sean Collins, professor of emergency medicine and executive vice chair of the Department of Emergency Medicine at VUMC, leads Vanderbilt's engagement in the HERO study and serves as the site's principal investigator. He also is a member of the initiative's Protocol Advisory Committee.
The registry is recruiting tens of thousands of health care workers from across the country, including doctors, nurses, respiratory therapists and paramedics, many of whom work on the front lines of the coronavirus pandemic and are at high risk for COVID-19 infection. About 15,000 of them will participate in the study, a randomized, placebo-controlled clinical trial that began in late April.
Leveraging the infrastructure of the National Patient-Centered Clinical Research Network and its more than 850,000 clinicians and hundreds of health systems (including VUMC), the study aims to answer two research questions: First, can hydroxychloroquine prevent COVID-19 infection in health care workers who are exposed to the virus? And second, can the drug lower virus levels in those who have been infected but do not have symptoms so that they are less likely to transmit the infection to others?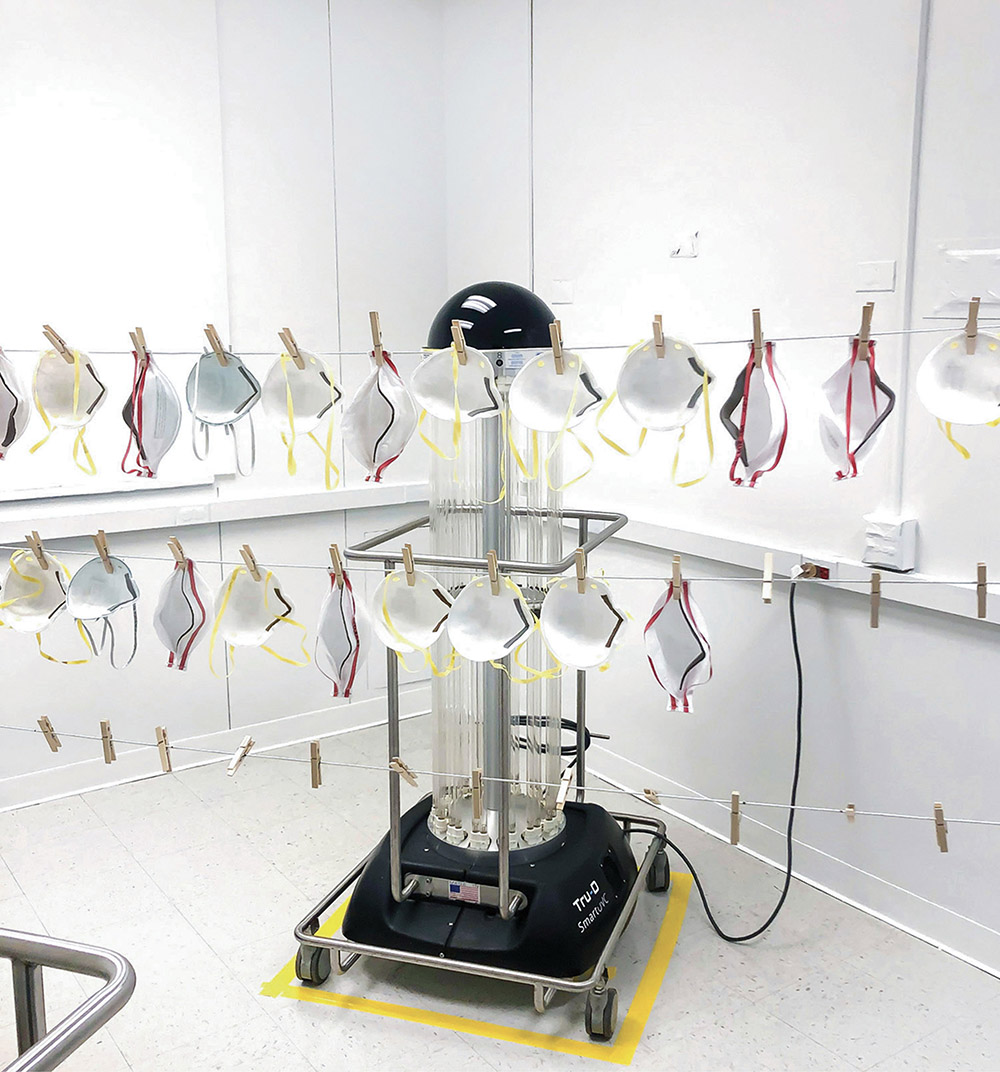 THE SHIFT TO TELEMEDICINE
In addition to its search for COVID-19 treatments, VUMC has rapidly shifted how it is caring for many patients, creating opportunities for technology-based clinical evaluations. These virtual visits protect patients and providers alike, while conserving much-needed masks, gowns, gloves, and other personal protection equipment.
Emergency medicine physicians at VUMC have utilized such video communication products as FaceTime, Skype and Zoom as telemedicine tools to evaluate patients with COVID-19 symptoms but who are at low risk for complications.
"We liken this approach to the use of two-way phones on opposite sides of glass windows. … Instead of glass and phones, we advocate for tablets in environments where physical construction of such barriers is not feasible," wrote Dr. Rob Turer, MD'15, a clinical fellow in biomedical informatics at Vanderbilt, in an article published online in the Journal of the American Medical Informatics Association.
A systematic review of emergency telemedicine found this approach is effective for minor, low-acuity situations and for consultations, as long as HIPAA privacy compliance is maintained. People with reassuring vital signs and few complicating conditions—even if their complaints suggest lower respiratory infection (fever, cough, shortness of breath)—are classified as low-risk patients who are candidates for evaluation via telemedicine.
It's not just physicians and patients who have adjusted to novel methods during this pandemic. Nearly 400 School of Medicine students whose clinical rotations came to a halt as a result of the virus were presented a new way to study the ongoing health crisis while remaining safe at home.
Within a two-week timeframe, School of Medicine curriculum leaders designed and implemented a new online Pandemic Medicine Integrated Science Course for second-, third- and some fourth-year medical students.
"Normally, it would take us months to design a new course, which would typically be offered to a maximum of 24 students after we'd had a chance to pilot it. But we designed a course in two weeks, with no pilot period, and offered it to 200 students all at once," says Dr. Bill Cutrer, associate dean for undergraduate medical education and associate professor of pediatrics and anesthesiology.
Calling upon his faculty colleagues, who also happen to be among the nation's top vaccine and infectious disease experts, Cutrer and Dr. Kendra Parekh, associate professor of emergency medicine and co-course director—with support from Dr. Donald Brady, BA'86, MD'90, senior associate dean for health sciences education and professor of medicine—designed a course that gave the medical students a front-row seat to myriad aspects of a pandemic.
"From a logistical standpoint, and a greater 'what's going on in the world' standpoint, it made sense to bring them all together and to think through pandemics—what we can learn from the current one, what we can learn from prior pandemics, and how we can provide the students an experience that will allow them to learn, as well as make an impact on our patients," Cutrer says. The new course paired foundational science with clinical content.
"How do you enable these future doctors to participate in, and be part of, something historic and something real while also keeping them safe, recognizing their role as students and preparing them for the future?" Brady asks, explaining the thought process that went into designing the course. "This provided all of us a unique opportunity to help learners think about how they deal with uncertainty at all levels—the uncertainty of the science, with the clinical piece, and the mental task of dealing with uncertainty."
The teaching portion spanned a four-week course. The first week provided foundational content, while weeks two and three offered a combination of case-based learning focusing on prior pandemics—the 1918 Spanish flu and the SARS virus. Week four involved the students in a pandemic simulation exercise in which they shared what they'd learned in one of seven different tracks covering everything from vulnerable populations to emerging therapeutics.
The course's clinical credit requirement was fulfilled through the students' assistance with patient telehealth visits and volunteer experiences.
---
Bill Snyder is a public relations specialist in the Department of News and Communications at Vanderbilt University Medical Center. Kathy Whitney is lead public relations specialist in the same department.
---
Dolly Parton makes generous gift to advance VUMC's COVID-19 research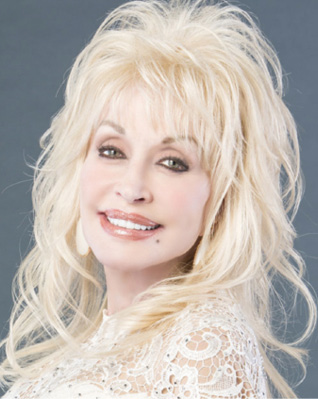 Legendary country music singer–songwriter Dolly Parton has made a generous gift to Vanderbilt University Medical Center that will increase scientific knowledge and advance the battle against COVID-19.
Parton made the gift in honor of her longtime friend Dr. Naji Abumrad, the John L. Sawyers Professor of Surgical Sciences, to support research teams who are working to perfect treatments and cures for COVID-19.
In an appearance on NBC's Today show, Parton commented on the gift going to support research for a bridge treatment that will save lives until a vaccine is identified. "What better time than right now? We need this," she said. "I felt like this was the time for me to open my heart, and my hands, and try to help."
VUMC's researchers are testing an array of existing drugs in urgent clinical trials aimed at reducing life-threatening symptoms associated with COVID-19. In addition, investigators are focusing on entirely new therapies that could treat and prevent the infection effectively. Both strategies are aimed at providing a bridge for people who are infected, given that a safe and effective vaccine is projected to be 12 to 18 months away.
"Dolly's amazing generosity is a source of inspiration and will have a lasting impact on the battle against COVID-19," says Dr. Jeff Balser, MD'90, PhD'90, president and CEO of VUMC and dean of the School of Medicine. "She cares so much about helping others, and we are very grateful for her ongoing support. These funds will help us complete promising research that can benefit millions in their battle with the virus."
Parton has been a generous donor to VUMC. Among her past gifts was a transformational contribution to the pediatric cancer program at Monroe Carell Jr. Children's Hospital at Vanderbilt in honor of Abumrad and her niece, Hannah Dennison, who was treated successfully for leukemia as a child at Children's Hospital.