Media Inquiries
Latest Stories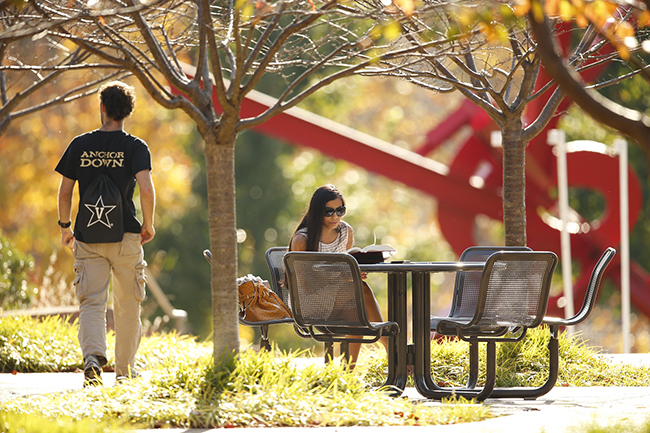 New opportunities to work with groundbreaking artists and gain exposure to global perspectives will soon be available to students and faculty, thanks to a generous gift from current Vanderbilt parents Allison and Larry Berg. The landmark gift will establish the Berg Global Artist-in-Residence program to bring visiting artists to campus, as well as two Berg Dean's Faculty Fellowships in the College of Arts and Science. Both efforts will be led by the College of Arts and Science and the office of Tracy Sharpley-Whiting, vice provost for arts and libraries.
The Bergs' gift spotlights the arts as a focal point of Dare to Grow, a $3.2 billion campaign that is the most ambitious fundraising effort in Vanderbilt's history.
"We are deeply grateful for Allison and Larry Berg's visionary gift highlighting the importance of the arts in higher education," Vanderbilt Chancellor Daniel Diermeier said. "The arts are an essential component of a liberal arts education and what it means to be human."
In creating the Berg Global Artist-in-Residence program, Vanderbilt will invite a high-impact visual artist to campus for an extended period, during which they will immerse themselves in campus life. The artist-in-residence will help to enrich arts programming and understanding by engaging with faculty, students, staff and community members through exhibitions, lectures, workshops, panel discussions, classes and critiques. The residency will be open to established and emerging visual artists of all media, backgrounds and nationalities.
"These visiting scholars will enhance artistic inquiry, promoting experimentation, self-discovery and understanding of the human experience," said C. Cybele Raver, provost and vice chancellor for academic affairs. "This generous gift supports the arts at Vanderbilt, facilitating broader advancements in learning and discovery."
The residency will evolve in close conjunction with the Berg Dean's Faculty Fellowships, which will support two faculty members in the College of Arts and Science with preference for those working in the visual arts in the departments of Art, History of Art and Architecture, and Cinema and Media Arts, as well as other humanities departments within the college. Dean's Faculty Fellowships are critical in helping Vanderbilt recruit, retain and support rising faculty stars, who in turn mentor and guide students on their educational and artistic journeys. The faculty selected for the Berg Dean's Faculty Fellowships also will have a direct role in shaping the artist-in-residence program.
"The Bergs' generous gift will enhance our support of exceptional junior faculty and will help students become engaged, informed and curious citizens of the world," said Timothy P. McNamara, interim dean of the College of Arts and Science. "As Vanderbilt's most academically diverse school, the College of Arts and Science is well-positioned to leverage these initiatives, strengthening dialogue and collaboration across a range of disciplines."
The Bergs' philanthropy and love of the arts have positively impacted a variety of organizations within their hometown of Los Angeles and beyond. Allison, a philanthropist, journalist and collector, has worked with several organizations including her current service on the boards of the Los Angeles County Museum of Art and the Mistake Room, and leadership councils at Studio Museum in Harlem, Tate Americas, Día Art Foundation, Perez Art Museum Miami and The Metropolitan Museum of Art. Larry is a senior partner at 26North and co-managing owner of the Los Angeles Football Club (LAFC). Formerly a senior partner at Apollo Global Management, he has served on the boards of McGraw-Hill Education, ABC Supply, AMC Entertainment, Inc., Berlitz International, Connections Academy, Goodman Global, Jacuzzi Brands, Laureate Education, Maxim Crane Works, Rexnord Corp, Sylvan Learning Systems and University of Phoenix, as well as the LAFC Foundation and the Major League Soccer Board of Governors.
The Bergs were introduced to Vanderbilt when their son, Zach, enrolled in 2022. As they became more familiar with campus, they decided to invest their charitable support in the university's bold vision for the arts.
"We are continually amazed by Vanderbilt's commitment to creating an educational environment that proactively nurtures the growth of holistic beings and encourages discovery and problem-solving through dynamic collaboration. We hope our gift, which happens to focus on supporting the interconnectedness between humans and understanding of diverse perspectives that stems from art, galvanizes others to contribute to the robust vision behind Dare to Grow," Allison Berg said.
To support the arts at Vanderbilt or to learn more about the Dare to Grow campaign, visit vu.edu/daretogrow.