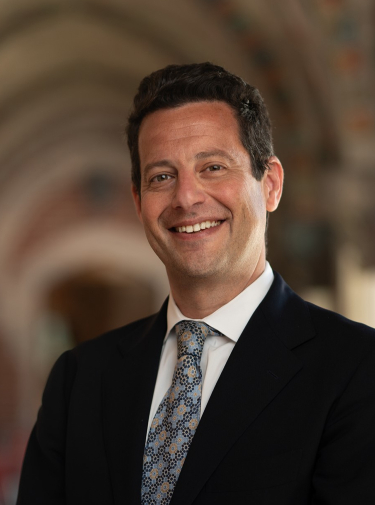 Darren Reisberg, a highly collaborative and distinguished higher education leader, has been named senior counselor to Vanderbilt Chancellor Daniel Diermeier. In this role, Reisberg will develop and advance strategic initiatives on campus, in the Nashville community and globally on behalf of the university and work with key stakeholders across the institution.
Reisberg currently serves as president of Hartwick College in Oneonta, New York. He previously was vice president for strategic initiatives and deputy provost to Diermeier at the University of Chicago, where Reisberg stewarded the university's values of free expression and open discourse, managed operations for the Office of the Provost, oversaw a range of institutes and centers, and led strategic planning and fundraising efforts. Reisberg will begin at Vanderbilt in January 2024.
"At a time of historic strength for our university, countered by unprecedented challenges to higher education as a whole, we must seize the momentum driving Vanderbilt to be a global leader in innovation and education," Diermeier said. "From our previous collaboration at the University of Chicago, I know firsthand Darren's exceptional record of leadership experience, his excellent communication and interpersonal skills, and his proven ability to carry major projects to fruition. His emphasis on collaboration will build consensus and accelerate progress toward our long-term goals. I'm delighted to welcome Darren to my leadership team and to Vanderbilt, where he will surely help us dare to grow."
In addition to leading strategic university initiatives, Reisberg will serve as a key adviser to the chancellor, offering insight and recommendations on critical matters as well as identifying opportunities for innovation and improvement across the university.
Reisberg has been president of Hartwick College, a four-year, private liberal arts institution, since August 2022. The college has more than 1,100 undergraduate students and nearly 200 faculty members. During his tenure, the college announced The HartLand Promise, which makes a liberal arts education at Hartwick affordable to qualifying students from rural counties in upstate New York. The college established five new majors and six new minors in high-demand areas such as cybersecurity, data analytics and digital marketing. Hartwick was selected to partner with the U.S. Department of State as part of its Diplomacy Lab, and the college established a new Institute of Public Service. Reisberg, a zealous fan and supporter of collegiate athletics, was selected to serve on the NCAA's Division III Diversity and Inclusion Working Group.
While at the University of Chicago, Reisberg served as a vice president and secretary of the university. He was the inaugural executive director of the University of Chicago's Institute of Politics, which is committed to fostering in students a passion for public service, meaningful dialogue and active engagement in our democracy. He coordinated the university's K-12 education initiatives—including oversight of the multi-campus UChicago Charter School, the board of which he chaired, and the rest of the research- and practice-focused Urban Education Institute—and was deeply engaged with The University of Chicago Laboratory Schools. From 2019 to 2022, Reisberg was the governor-appointed chair of the Illinois State Board of Education, which oversees K-12 policy for more than 850 school districts in the state.
A native of New York, Reisberg was raised in Northern New Jersey. He earned his bachelor's in political science from Duke University and his J.D. from Yale Law School. He and his husband, John Hilliard, a multilingual education specialist, have four dogs—Bowie, Skylar, Cornelia and Skeeter—and look forward to their move to Vanderbilt and Nashville.
"I'm incredibly excited to join Vanderbilt at this significant moment for the university and for all of higher education, and I welcome the opportunity to work again under the visionary leadership of Chancellor Diermeier, one of my close mentors, and to be part of his executive team," Reisberg said.
"Leaving Hartwick is certainly bittersweet, and I'm immensely proud of all that the Hartwick community—students, faculty, staff, alumni and regional partners—have accomplished together to sustain and preserve Hartwick's legacy as a uniquely personalized and supportive liberal arts college," he said. "I look forward to the work ahead, where I hope to help increase Vanderbilt's impact and advance higher education."