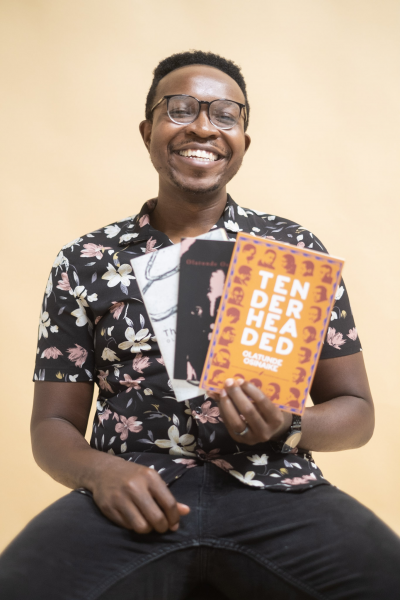 School of Engineering alumnus Olatunde Osinaike lives in what most people think are two entirely different worlds—as opposite as night and day. In one, he's a data scientist for the consulting firm Booz Allen Hamilton. In the other, he's one of five winners of the 2022 National Poetry Series. His debut collection, Tender Headed, is being published by Akashic Press in December.
"I don't think of the data science and the writing as different," Osinaike says. "You definitely use a lot of creativity in how you code. The best observations I ever got were in a technology forecasting class with Andy Van Schaack [associate professor of the practice of engineering management] my junior year at Vanderbilt. We talked about scenario analysis, convergent opinions. So, even if I'm looking at something under a microscope, I'm also thinking about the world around what I'm observing."
In Tender Headed, which is on Publishers Weekly's Most Notable Books for Fall/Winter 2023 and the Library Journal's What to Read in 2023, Osinaike explores the vulnerabilities of Black male identity in the United States and how language can be used to reinforce stereotypes, as well as how to break free from them. Drafts of some of the poems in the collection began as early as his sophomore year at Vanderbilt, when he was active in Vanderbilt Spoken Word, a performance poetry group.
"In that club, we had a long-running joke that most of my poems started with me staring at a doorknob and thinking of the different manifestations of what a door can be," he says. "Discovery is both the path and the destination. When you're writing, there is a very real phenomenon that happens of recognizing an algorithm or the algorithmic play of the world. Sometimes you just have to get it out of your head and onto the page. I think all my poetry starts from letting the world around me lead."
The poems in Tender Headed often take on visual characteristics—of squares, rectangles or, as Osinaike puts it, "the boxes you're working toward or the boxes that you're put into."
Poets who influence him include Nate Marshall, BA'12, Lillian-Yvonne Bertram, Vievee Francis and Roger Reeves, all artists who "explode my mindset," he says. Currently, Osinaike is working on two poetry collections and a collection of essays. He says that while winning the National Poetry Series changed his life, it also changed nothing.
"Winning the prize lets me further explore my creativity and the muses that I've run into, where I am and where I've been. I'm thankful for that. On the other hand," he says, "I still have my day job. I'm still sticking with life as I know it and exploring the wonder that exists in those little moments, which allows me to appreciate them even further."
—Bonnie Arant Ertelt
Olatunde Osinaike will be on campus for an alumni reading event Oct. 24, co-sponsored by the Vanderbilt Creative Writing Program and the Bishop Joseph Johnson Black Cultural Center. He returns to Nashville Jan. 25, 2024, for a reading with The Porch, a literary nonprofit that serves Middle Tennessee.