It can be difficult to talk about suicide, but having those conversations is an essential part of prevention. If you are struggling with mental health, please know that you are not alone. According to the Mayo Clinic's 2021–22 survey, 44 percent of college students reported symptoms of depression, and 15 percent reported seriously considering suicide. 
Vanderbilt consistently works to address mental health concerns in our community, including expanding Student Care Network programming and widening efforts to increase awareness and education about student mental health. SCN is a holistic network of services and resources pertaining to health and wellness that is available to all Vanderbilt University students who have paid the Student Health Fee. 
SCN partners with the Crisis Text Line to post "VU Cares" signs around campus. The goal of these posters is to share positive affirmations and connect students with 24/7 crisis care resources. The Crisis Text Line is a free, 24/7 confidential service that provides access to trained crisis counselors. Additionally, students may notice "This Dore Cares" hangtags and stickers around campus belonging to faculty and staff who have completed training in supporting student mental health.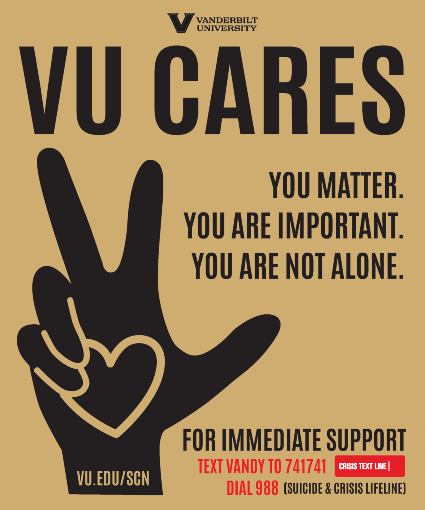 On Nov. 14, Vanderbilt's chapter of Active Minds will host an event called Send Silence Packing on Alumni Lawn. The event is to help promote suicide prevention awareness at Vanderbilt by sharing stories provided by people who have lost a loved one to suicide. While it is not the intent of Send Silence Packing to evoke distress, exposure to this sensitive content may be challenging. Student Care Network staff will be on site to provide support and resources to students. More information about the event will be shared closer to November. 
"Following an impactful Send Silence Packing event last year, we are excited to bring the tradition back to campus with a few changes," a representative of Active Minds said in an email. "This year, the event will follow a different setup of standing backpacks that promotes increased accessibility, as well as enclosed tents for added privacy. We hope the event will increase awareness of the signs (or absence of signs) of suicidal ideation in our age group and inspire those who are in a position to create change." 
Keep the conversation about mental health and well-being moving forward: 
Continue learning and exploring action steps with

Behind the Backpacks

, an interactive, virtual experience that explores how to change the culture around mental health in everyday life.

 

If you are struggling, seek help. Seeking help takes strength and courage, and it is well worth the effort. If you suspect someone you know is struggling, encourage them to seek help. Your support could play a key role in their recovery.

 

Check in with your loved ones. Find out how they are really doing. It can be easy in our fast-paced world to not check in deeply with those we care about. Let them know that you care about how they are doing by asking questions and actively listening using

Active Minds' tool for everyday conversations

.

Connection and community play a huge role in our mental health. Vanderbilt's

Identity Centers

can be a great resource for connecting around shared identities or experiences

. Student Organizations

are another way to find others with shared interests. 




Request

MAPS (Mental Health Awareness and Prevention of Suicide) training

for your student organization or department to learn how to identify and assist those in need due to mental health concerns.

 

Faculty and staff can complete a three-step training program that focuses on supporting student mental health. Upon completion, participants will earn a "This Dore Cares" hangtag/sticker to identify themselves as a support for students in crisis. To schedule for yourself, your office or your department,

complete the request form here

.

 
If you or someone you know is struggling with their mental health or with suicidal ideation, contact: 
University Counseling Center – call 615-322-2571 (press 2 if calling after hours)

 

Crisis Text Line – text "VANDY" to 741741

National Suicide Prevention Lifeline – dial 988

Complete a

Student of Concern form

to help connect a student with resources for support

 
Students with non-urgent concerns should consider attending a University Counseling Center Drop-In Consultation for easy access to informal, confidential and free consultations with UCC providers. 
Help and hope are available. You are not alone.
Learn more about Vanderbilt's commitment to belonging
---
You at VU 
At Vanderbilt, fostering a deep sense of belonging for every community member is a core value. You at VU encompasses campus resources needed for members of the Vanderbilt community to be well, to grow and to thrive physically, emotionally, mentally, socially and professionally. The You at VU portal is a one-stop spot where students, staff and faculty can find ways to connect with others, engage across campus and discover well-being support and resources. Each person who is a part of our campus shares one commonality: You belong here. For more information, visit vanderbilt.edu/youatvu.