Major Jackson, professor of English, director of creative writing and holder of the Gertrude Conaway Vanderbilt Chair in the Humanities, has received the Academy of American Poets Fellowship for distinguished poetic achievement.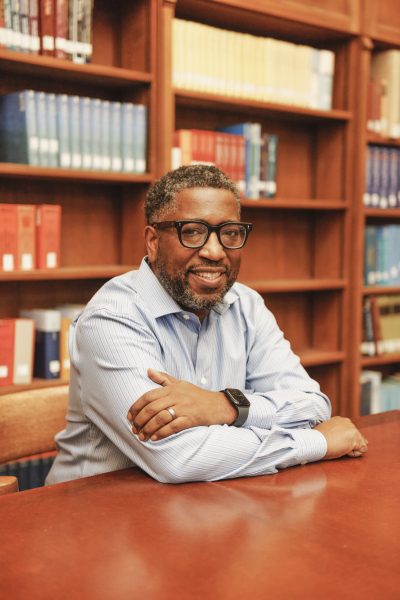 "Eclectic but refined, musical, talky and witty, Major Jackson's poems celebrate a wide swath of humanity through a very personal lens. Consider this seemingly ordinary confession: 'What is my life but constant entering / into a dizzying churn of days / ping-ponging like numbered balls / in a glass air machine.' Major freely employs alliteration, onomatopoeia, line breaks and linguistic play to embellish the stories of our quotidian lives," academy Chancellor Marilyn Chin said in an announcement about the fellowship.
The fellowship, established in memory of James Ingram Merrill with the backing of the T.S. Eliot Foundation, acknowledges exceptional accomplishments in poetry. Recipients of this honor are selected through nominations and elections conducted by the academy's Board of Chancellors. It comes with a $25,000 stipend and a residency opportunity at the Eliot House in Gloucester, Massachusetts.
Already an elected member of the American Academy of Arts and Sciences and the recipient of a John Simon Guggenheim Fellowship, a Pushcart Prize and a Whiting Award, Jackson also has been honored by the National Endowment for the Arts, the Pew Foundation and the Witter Bynner Foundation in conjunction with the Library of Congress. In January, he became the host of the celebrated Poetry Foundation podcast The Slowdown, and he is the poetry editor of the Harvard Review.
"This is such a vibrant and rich moment for poetry, which is to say, this award could have gone to any number of fine poets," Jackson said. "I am deeply honored—moved, really—to have received the recognition of my peers whose work inspires and instigates me to practice the art at its highest reaches."
Founded in 1934, the Academy of American Poets is the United States' leading champion of poets and poetry. The organization awards more than $1.3 million each year and produces Poets.org, the world's largest publicly funded website for poets and poetry.
"Indeed, Major has the ear for both the streets and traditional form—from free sonnets to urban basketball riffs, from a long epistle to Gwendolyn Brooks to Chinese-inspired landscapes," Chin said. "Whether grieving for a departed mother or confessing to a failed marriage (or swaggering love), whether channeling Tupac or waxing social/political, Major Jackson tells his tales with an unforgettable sizzling bounce in every step."
"Honoring poetic achievements remains central to the academy's mission," said Ricardo Maldonado, president and executive director of the Academy of American Poets. "We celebrate these emerging and established poets and translators as they channel the power of poetry to help us redefine ourselves across centuries and geographies while forging lasting communities."
Jackson is the author of six collections of poetry: Razzle Dazzle: New & Selected Poems (2023), The Absurd Man (2020), Roll Deep (2015), Holding Company (2010), Hoops (2006) and Leaving Saturn (2002).