Vanderbilt undergraduate students presented their summer research projects at the MARC/START/Beckman Summer Symposium earlier this month, sharing research on wide-ranging topics, including how exposure therapy might help people overcome fear of snakes, the relationship between social anxiety and memory, and how cocaine can affect male and female brains differently. The symposium was made possible with leadership from Katherine Friedman, associate provost for undergraduate research; Doug McMahon, Stevenson Professor of Biological Sciences; Paul Durst, assistant professor of the practice in CSET; and Jeff Johnston, Stevenson Professor of Chemistry. The daylong event highlighted the MARC (Maximizing Access to Research Careers), START (STEM Transition and Retention) and the Vanderbilt Beckman Scholars programs, which provide student research opportunities in STEM, aiming to launch the careers of undergraduate students through early introduction to advisers, STEM-focused peers and scientific work.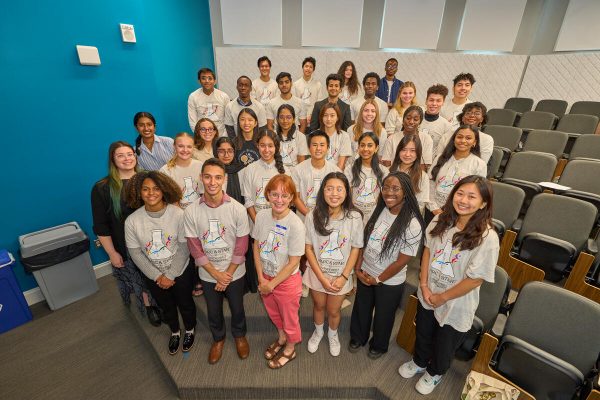 "The connections that the programs provide, as well as their intentional timing, make them fulfilling and effective," Friedman said. "Research has shown that connections with advisers and peers can be especially impactful for first-generation students, low-income students and those from other groups underrepresented in STEM fields. Early laboratory experiences can be transformative for students' decisions to remain in STEM. That research is proving true in Vanderbilt's experience with these two young programs." 
These programs are examples of the research opportunities envisioned and supported by Provost C. Cybele Raver's initiative, Discovery Vanderbilt, which seeks "to dramatically increase faculty, student and staff engagement and success in pursuing bold new ideas through disciplined, rigorous inquiry." More specifically, these programs aim to increase the number of individuals from underrepresented groups in scientific research and careers, aligning fully with Vanderbilt's mission of inclusive excellence across all disciplines.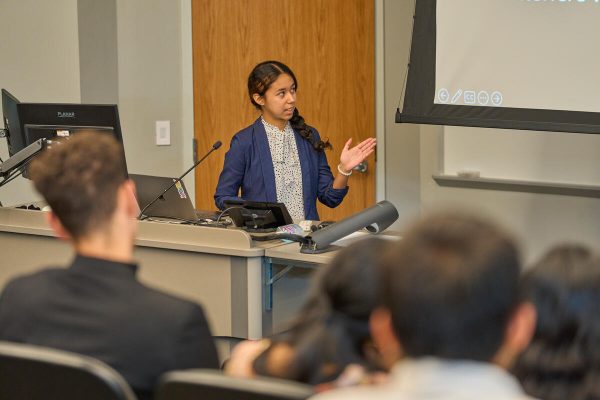 "Providing inclusive research opportunities in higher education is essential for ensuring that all students have the chance to engage in scientific inquiry and make meaningful contributions to their fields," said Tiffiny Tung, vice provost for undergraduate education. "The opportunities provided by these programs not only impact the individual students, but also create a more diverse and innovative scientific community that better reflects the world around us." 
Held on Aug. 2, the meeting was the second annual MARC/START symposium and the first time the event also included the Beckman Scholars. Thirty-four Vanderbilt students—including 21 START Scholars, eight MARC Scholars and three Beckman Scholars—participated in the research symposium. Leading up to the event, the students received training on how to develop abstracts and posters to highlight their scientific research, just as professional scientists do for real-world symposia. Symposium attendees included many of the faculty mentors and graduate students, postdocs and staff who supported these students over the summer. In addition to being a research showcase, the symposium served as a celebration of the students' hard work and of the community formed by these programs.  
Presenter Hannah Bhattacharya, a rising sophomore majoring in biomedical engineering on the pre-med track in the School of Engineering and a START scholar who also received a Crescere Aude Scholarship for her project, reflected on START, saying, "Through the START program, I have gained access to a plethora of scientific communication and professional development resources, which have allowed me to pursue my passion for autoimmune disease research in the Bonami Lab. Not only has the START program provided me with scientific guidance, but it has also provided me with a community of underrepresented minority students like myself." 
MARC is a five-year grant-funded program sponsored by the National Institutes of Health and administered locally to a cohort at Vanderbilt.  START is a Vanderbilt program for freshman and sophomores with two components: (1) an academic-year mentoring program in which students participate in small groups with a graduate student or postdoc mentor; and (2) a summer program in which a smaller group of students conduct summer research. 
To build on their symposium experience, the MARC Scholars will be attending the American Biomedical Research Conference for Minoritized Scientists in November and will be submitting versions of their abstracts to the conference as they apply to give poster or oral presentations.  
For additional information about these programs, please email Friedman at katherine.friedman@vanderbilt.edu.